UTSA formula racing team tests driving skills at local autocross event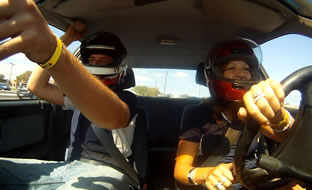 Share this Story
(Nov. 2, 2011) -- UTSA's Society of Automotive Engineers (SAE) formula team, Roadrunner Racing, had their first chance to showcase their driving abilities at the San Antonio Sports Car Association autocross event. The event was an opportunity for the engineering student team to refine their techniques in preparation for the international SAE competition next June. In the team's first year of participation, driver trainer and UTSA engineering student Jaypaul Smith placed 28th with a time of 46.950 seconds.
Smith led the team of UTSA engineering students at Blossom Athletic Center, where he helped the drivers and members prepare for their first autocross session this season. The autocross event consisted of two heats, a morning session and afternoon session. In each heat, drivers were given six laps to achieve the fastest time. It was the first opportunity for new members to experience the conditions of competition and the team drivers to shake off the rust as they navigated through obstacles such as slaloms and sharp turns.
As UTSA's fastest team, Roadrunner Racing showed San Antonio that it has some of the fastest drivers in the city. Team driver Robert Alaniz saw constant improvement each lap achieving a best 51.473 seconds in his 1994 Ford Mustang GT. Team driver Daniel Pinto had the next best time at 50.235 seconds. But, driver trainer Smith showed why he is a former karting champion and had a top-five finish at the International Kart Federation Road Race Grand Nationals finishing with the third best time of the day at 46.950 seconds in a 2004 Chevrolet Z06; he was bested by a tandem driving team (two drivers driving the same car) by three seconds in a Porsche Boxster.
Before racing, Smith and team drivers Pinto and Alaniz walked the course to become familiar with its twist and turns and to mentally prepare a plan of action for race time. But, walking an autocross course is different than driving it.
"Courses can seem easy to read while you walk the course before a race, but once you're strapped into a car doing 40-plus miles per hour, things can become difficult to read," said Alaniz. "So, with us racing our cars, we get better at reading courses, and this allows us to stay on track and produce our fastest times."
Each member had a chance to race his or her car and push it to its limits. While typical street legal cars are much larger and heavier than the smaller, lighter and nimbler FSAE car, the drivers learn the importance of drive-time experience and how to balance gas and brakes, steering control and cornering, and reading race lines.
"These skills are important to master, because other teams, especially from overseas, have members who race professionally, so Roadrunner Racing has some stiff competition," said Alaniz.
The UTSA team spent approximately nine hours together as they raced and helped out at the event. Pinto said he connected with San Antonio's racing community, built camaraderie with newer members and enhanced relationships with older members.
>> To learn more about the UTSA Roadrunner Racing team, visit the Roadrunner SAE website, email roadrunnerraccing@gmail.com or call 210-363-0945.