UTSA receives SAWS Refreshing Ideas award for water conservation, protection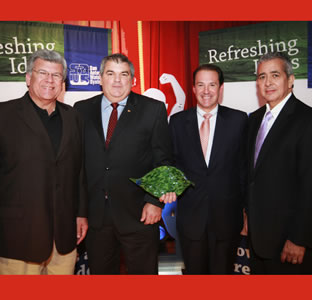 Share this Story
(Nov. 2, 2011) -- UTSA was recently honored with the 2011 San Antonio Water System (SAWS) Refreshing Ideas Pinnacle Award for water conservation and environmental protection. At an Oct.18 luncheon ceremony at the Pearl Stable, the award was accepted by Dave Riker, UTSA associate vice president for facilities, and Albert Carrisalez, UTSA assistant to the president and director of external affairs and corporate relations.
The Refreshing Ideas awards recognize businesses for "doing more with less" and helping to preserve and protect the community's water supply. Mayor Julian Castro opened the ceremony and the keynote address was by Robert Puente, SAWS president and CEO.
"This was a true team effort, and we were pleased to accept this award on behalf of the entire UTSA community," said Riker. "The university continues to look at ways we can help protect our most precious resource and, at the same time, lower costs for our institution. This is good for UTSA, San Antonio, our state and the planet."
The university was honored for several projects that have helped conserve water at the UTSA campuses. To accommodate growing athletics and intramural sports programs, Campus Recreation Services paid to replace 10 acres of natural grass with artificial turf on playing fields, saving an estimated 14.5 million gallons of water per year and eliminating the need for fertilizers and pesticides in the area. UTSA also recently retrofitted the Chisholm Hall campus residence with 250 high-efficiency toilets and showerheads to aid in water-saving efforts.
Additionally, the Facilities Grounds department is installing more efficient irrigation systems and xeriscaping at selected locations around the campuses. Xeriscaping involves planting less grass and using more mulch and native plants that need less water.
For water-quality programs, UTSA was recognized for treating all research building water using neutralization tanks that ensure water quality is maintained before it enters the sanitary sewer system. The university also recycles condensate water from the Applied Engineering and Technology Building to supplement water used in thermal energy plant cooling towers. Also, the operations team does smoke testing of water infrastructure to ensure the integrity of the wastewater system.
A portion of the proceeds from the SAWS Refreshing Ideas awards luncheon benefits the Water Conservation Fellowship Fund for college students and Project Agua, a nonprofit payment assistance program that helps low-income families.
>> Read more at the San Antonio Water System website.