UTSA Student Leadership Center sends students to Texas Conference for Women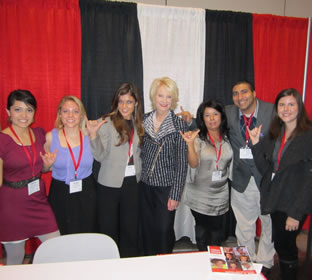 Share this Story
(Nov. 30, 2011) -- The UTSA Student Leadership Center sent 41 students to Houston Nov. 17 for the 2011 Texas Conference for Women. The conference at the George R. Brown Convention Center involved more than 6,000 participants with speakers focusing on leadership, professional development and personal growth.
Hosted by Texas First Lady Anita Perry, the 12th annual women's conference included inspiring keynote speakers such as Martha Beck, Lisa Niemi Swayze, Cindy Hensley McCain, Rose Mapendo and Jody Conradt. There were breakout sessions with panel discussions, a health and wellness pavilion, a career fair with a mentor-match program and resume critique as well as a vendor exhibit.
The Student Leadership Center (SLC) selected students from a range of majors and backgrounds to represent the university. The students reported they were pleased with the many great opportunities at the one-day conference and learned from the motivating messages of the keynote speakers.
Senior art major Amanda Russell said, "The women I met were so inspirational, and it was a great chance to meet like-minded UTSA students."
Sophomore communication major JaQuille Collins said, "I feel like this office offers many opportunities for college students that we may not be able to experience on our own. It has helped me broaden my outlook on certain aspects of life, and it will continue to be my go-to place for making myself a well-rounded person."
Rita Adeyinka, a junior studying mathematics, said the conference improved her leadership skills. "I mainly gained the wake-up call that it is never too late to become more involved, to network and to accomplish goals of helping the community through leadership," she said.
Quachae Thomas, a senior studying psychology, said, "I learned to be assertive and put my best foot forward. It was a great networking experience. The skills I learned with the SLC will help me grow professionally, which is as important as getting a good education.
"I really appreciate what the SLC is doing on this campus," said sophomore biology major Esther Atoyebi. "They are giving students opportunities that not all universities give to their students, and it makes me happy and honored to be a Roadrunner because I am able to work with people who have a purpose, a plan and a vision."
For more information about programs and events, visit the
UTSA Student Leadership Center
website or go to University Center Room 1.002 on the Main Campus.