Faculty, staff volunteers needed for student Late Night Breakfast tradition Dec. 7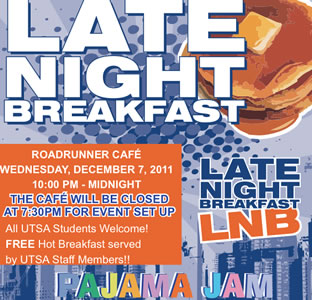 Share this Story
(Dec. 5, 2011) -- UTSA faculty and staff volunteers are needed for the Late Night Breakfast, which is 10 p.m.-midnight, Wednesday, Dec. 7 at the Roadrunner Café on the Main Campus. In the longstanding UTSA tradition, faculty and staff will serve breakfast to students, as they get ready for final exams.
At the fun night of hot foods and cool beats, students will socialize, enjoy school spirit and this year will listen to the music of UTSA's own DJ Gumby. This year's theme is "Pajama Jam," where students are invited to wear colorful and appropriate pajamas. To prepare for the event, Roadrunner Cafe will close at 7:30 p.m.. Wednesday.
UTSA faculty and staff member interested in volunteering can email DeAna McCusky or call 210-697-4400.
The breakfast event is sponsored by Business Auxiliary Services, ARAMARK and the Office of Housing and Residence Life and is free and open to all UTSA students.
For more information, email utsafood@ARAMARK.com. Follow UTSA Dining on Twitter and Facebook.