Four UTSA faculty members receive 2011 Richard S. Howe teaching awards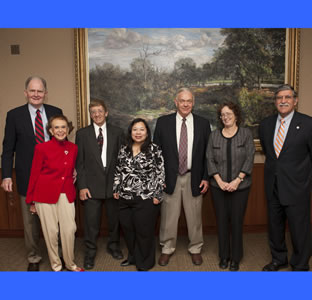 Share this Story
(Dec. 5, 2011) -- UTSA President Ricardo Romo and Provost John Frederick joined executive administrators at a Nov. 30 luncheon honoring UTSA professors Lucila Ek (College of Education and Human Development), Mary McNaughton-Cassill (College of Liberal and Fine Arts), Richard Jones (COLFA) and Robert Lengel (Honors College and College of Business) with the 2011 Richard S. Howe Outstanding Service to Undergraduates Teaching Award. The award recognizes tenured, tenure-track and non-tenure track faculty with a minimum of three years of teaching experience at UTSA for developing signature learning experiences for undergraduates outside the traditional classroom environment.
The four recipients each received $2,000 from the Richard S. Howe Endowment. The fund honors former UTSA professor and mentor Richard "Dick" Howe, who was instrumental in establishing a strong foundation for the UTSA College of Engineering. It is supported by community leader and philanthropist Edith McAllister.
Lucila Ek is an associate professor in the Department of Bicultural-Bilingual Studies. Since joining the UTSA faculty six years ago, she has assumed a critical leadership role in La Clase Magica. The program supports bilingual Latina/Latino elementary school students from low-income families by pairing each student with a UTSA undergraduate bilingual teacher candidate who serves as a mentor. Using technology such as notebook computers and iPhones, La Clase Magicacreatively supports cultural awareness and heritage language and literacy while deepening and extending students' mathematics and scientific knowledge. The program also gives parents the opportunity to work with the technology that is familiar to their children.
Associate Professor Mary McNaughton-Cassill in the Department of Psychology is best known for her empathy toward students and her ability to mentor. She has supervised 18 UTSA honors theses and is the faculty adviser for the Student Psychology Club, which brings speakers to campus and promotes career development. One student noted, "Her dedication to her students … defined the meaning of excellence in teaching. She not only imparted knowledge regarding research methodology and statistics, but she also reminded me to take care of myself and believe in my abilities … There is no other professor who has left this impact on my professional as well as my personal life."
Professor Richard Jones in the Department of Political Science and Geography has a long history of offering service-learning opportunities. He organizes geography bees that bring UTSA student-mentors together with area high school students to enhance the learning of both groups. He also is a veteran leader of study-abroad expeditions. Until recent travel restrictions, Jones took students to backcountry Mexico almost yearly. He also has led several field trips through parts of Texas. Recently, he led his students in a humanitarian fundraising effort to help victims of the Haitian earthquakes and cholera epidemic, philanthropic work that has shown UTSA students how professionals can organize to assist fellow citizens.
Lengel, an associate dean, was recognized for his work with the College of Business Leadership Challenge program."Established by Lengel in 1992, this program challenges juniors and seniors to broaden their leadership perspectives through exposure to community leaders and personal reflection about service and growth."As a result, several students have set out on completely new career paths and personal directions. One student set on becoming a tax attorney is refocusing his career path to enter the public sector.
Another who was extremely shy has become an inspirational public speaker and is seeking a career in hospital administration. Most recently, Lengel was instrumental in creating and mentoring the For the Kids student organization on campus. Modeled after a successful program at his alma mater, the organization raises funds to help children battling cancer, and the year-round program culminates with a 24-hour dance marathon.
"UTSA is extremely fortunate to have so many excellent teachers -- educators who constantly find new ways to motivate our students to achieve their personal best," said Frederick. "The four recipients we are honoring this year are committed to shaping the next generation of leaders through educational experiences that extend beyond our classroom walls. We are grateful for their passion and for the countless hours they spend to give UTSA students the best possible preparation for successful careers."
The Richard S. Howe Outstanding Service to Undergraduates Teaching Award is a new award developed and supported by McAllister. Additionally, McAllister supports the Richard S. Howe Excellence in Service to Undergraduate Students Award. Established in 1999, the Howe service award is given annually to UTSA faculty and staff who demonstrate an exemplary commitment to UTSA students by promoting student access and success.