Institute of Texan Cultures: Great holiday destination for stories, activities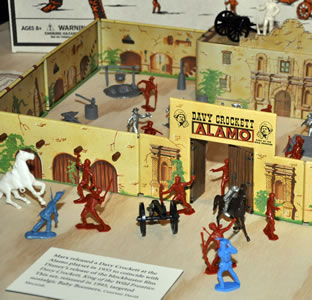 Share this Story
(Dec. 20, 2011) -- The kids are out of school and family has arrived from out of town. Over the holiday break, the Institute of Texan Cultures invites visitors and locals alike to the museum -- a great place to entertain children and guests with exhibits that tell the stories of Texas and Texans.
While many find it difficult to explain the Texan identity to out-of-town family, a trip to the ITC adds depth and character to the story of Texas, telling it through an exhibit floor that features more than 20 cultures that came to Texas, bringing their own customs and ways of life.
And while out-of-towners might not have the opportunity to take a Texas road trip, "Griff Smith's Texas: A Retrospective Through the Lens and Images from Texas Highways" follows Notable Texas Highways magazine photographer Griff Smith through 25 years, collecting images "from Alpine to Zephyr." The exhibit shows Texas' beauty, diversity and mystery, capturing the nuances of Texas culture in photographs.
For the kids and the big kid in everyone, "Timeless Texas Toys" is a great Christmas present. A look back at toys and play traditions from the late 19th century into the early 20th, the exhibit entertains with hands-on opportunities to play with classic toys such as wooden tops and climbing bears. It's a chance for parents and children to bond over the shared memories of childhood, where work was play and toys were tools.
During the holidays, the Institute of Texan Cultures will be closed Sunday, Dec. 25. The museum will observe a 3 p.m. early closure on Saturday, Dec. 31. It will close on Sunday, Jan. 1 for New Year's Day. All other days will keep regular hours, 9 a.m.-5 p.m., Monday-Saturday; noon-5 p.m., Sunday. Admission is $8 for adults (ages 12-64); $7 for seniors (ages 65+); $6 for children (ages 3-11); free with membership, UTSA identification or Alamo Colleges identification.
The Institute of Texan Cultures is on the UTSA HemisFair Park Campus, 801 E. Cesar E. Chavez Blvd., a short distance from the Alamo and the River Walk. For more information, call 210-458-2300 or visit TexanCultures.com.