UTSA professor offers professional development training for patent examiners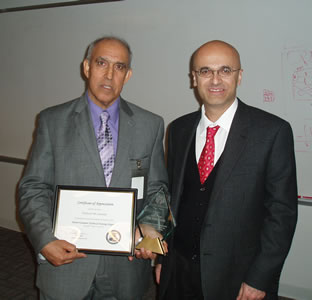 Share this Story
(Dec. 2, 2011) -- During a recent visit to the U.S. Patent and Trademark Office (USPTO) in Washington, D.C., Mo Jamshidi, UTSA Lutcher Brown Distinguished Chair of Electrical and Computer Engineering, briefed thousands of patent examiners employed by the federal government on new research in System of Systems Engineering (SoSE). SoSE occurs when systems programmed to do a task combine to form a complex system that can do more than the sum of its smaller components.
The scholar's presentation focused on cyber-physical SoSE research that Jamshidi conducted since 2006, resulting in three books. After presenting the basic concepts of the technology, Jamshidi surveyed its current and potential applications.
"This technology has vast implications for the patents of the 21st century from future combat missions and the smart energy grid to health-care systems and air-ground-marine transportation," said Jamshidi. "It also has applications to Earth observations and disasters such as hurricanes and tsunamis."
Jamshidi's engineering career spans more than four decades and includes time in academic, professional and government positions both in the United States and abroad. Throughout his career, he has conducted research on a variety of topics for the U.S. Air Force, Department of Energy, NASA and Sandia National Laboratories. His research has offered significant contributions to the research and development of large-scale complex systems, systems of systems and autonomous control.
Highlights include his work on the first generation of adaptive optics for the Hubble telescope, the engineering of nuclear breeder reactors, the Mars Pathfinder Project and the applications of robotics for energy efficiency. In 2009, the European Union invited Jamshidi to help launch System of Systems research programs among the European Union's 27 countries. The engineering professor's recent visit to the USPTO was sponsored by the National Intellectual Properties Society of Iranian-Americans, which builds bridges between American researchers and the USPTO to train and educate examiners on a timely basis.