UTSA students now can create customized degree in multidisciplinary studies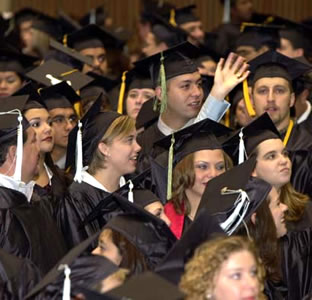 Share this Story
(Dec. 5, 2011) -- One student already has more than 120 hours of community college. Another has lost his passion for his chosen major but doesn't want to lose those credit hours. And another has been slowly working on her undergraduate degree for 20 years.
Approximately 40 students have enrolled this semester in the university's Bachelor of Arts Degree in Multidisciplinary Studies, which was approved in June by the Texas Higher Education Coordinating Board. The program, which requires students to pursue coursework in three distinct focus areas, allows them to create highly individualized degree plans suited to their own interests and experience.
"There are a lot of students here and at every other university who -- for a variety of reasons --may not benefit from a traditional degree plan," said Barbara Smith, UTSA executive director of advising.
Those might be high-achieving students who have interests in many areas as well as students who intend to go to on to professional schools. "I think it's a very good program for students who are planning to go to law school or medical school to get the broad coursework that will help them become better doctors and lawyers," she said.
Gabriel Acevedo, program coordinator and associate professor of sociology, believes that having a broad understanding of multiple disciplines is important in the global economy.
"We live in a society where interdisciplinary skills are not only useful but often necessary," said Acevedo."With this program, we can help a lot of students complete their degrees and also provide them with an excellent, broad-based foundation for entering the workforce."
In their senior year, multidisciplinary studies students will complete a capstone project integrating their three focus areas. One of the focus areas must be within the College of Liberal and Fine Arts or the College of Sciences, and no more than one can be in the College of Business. Students must have their degree plans approved by the Office of Undergraduate Studies, which houses the degree program, and are advised through that office.
"It's very important to get a sense of what each student in the program wants to accomplish and then help them tailor a program to meet that goal," Acevedo said.
Acevedo and Smith said the multidisciplinary studies degree also is ideal for students who change their majors or who may not be eligible to continue in their chosen college but still are in good standing academically at UTSA, because it allows them to use their existing coursework toward a degree.
One such student is Amanda Schweizer, who began college in 1991 in California and lost a lot of her hours when she and her husband moved to Texas. Schweizer, 38, began the fall 2011 semester as a geology major and was facing a summer 2014 graduation. But, only three weeks into the semester and with Smith's advising, she changed her major to multidisciplinary studies and now expects to graduate in summer 2013. Pursuing her passion for nature photography, she is taking coursework in geography, geology and photography.
"I'm getting a more well-rounded degree that suits me," Schweizer said. "I'm going to be more focused and work harder now because all these courses interest me so much."
For more information, visit the Multidisciplinary Studies website or email mdst@utsa.edu.