Prefreshman Engineering Program accepting applications for summer 2012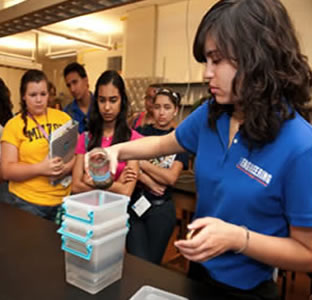 Share this Story
(Dec. 12, 2011) -- The University of Texas at San Antonio announced the San Antonio Prefreshman Engineering Program (PREP) is accepting applications for summer 2012 enrollment. The program serves high-achieving students in grades six through 11 with an interest in math, science and engineering.
PREP 2012 is scheduled for June 13-July 31, 2012, and tentatively will be at the UTSA Main and Downtown campuses, St. Philip's College, Palo Alto College, Northwest Vista College, Northeast Lakeview College, San Antonio College, University of the Incarnate Word-Dual Enrollment Center, Our Lady of the Lake University and St. Mary's University.
"PREP began in 1979 at one venue with 50 students," said Rudy Reyna, PREP executive director. "Since that time, many organizations have offered their support, allowing us to expand the program to serve more students. Last summer, 1,198 students completed the program at nine San Antonio locations. PREP had an additional 2,286 students in other Texas cities and 500 in other states."
PREP was founded at UTSA by mathematics professor Manuel Berriozabal to provide high-achieving students (particularly minorities and females) excelling in science, technology, engineering and mathematics (STEM) with instruction to prepare them for careers in those areas. The academically intense curriculum stresses the hands-on applications of abstract reasoning and problem-solving skills.
The seven-week, STEM-based program is presented over four summers. PREP I focuses on mathematical logic and introductory engineering principles. PREP II focuses on algebraic structures and physics. PREP III offers students an introduction to technical writing and probability and statistics. PREP IV introduces students to computer science and advanced engineering projects.
Applications for the summer 2012 PREP must be postmarked by Tuesday, Jan. 31, 2012, to be eligible for consideration. The program cost is $300 per student, although many San Antonio schools and school districts provide funding for a select number of students to participate in the summer program. Students should see their school career counselors to determine if they qualify for financial support.
To learn more about PREP 2012 or to apply, visit the PREPUSA website (click on "Students" in the upper left corner, then choose "San Antonio PREP") or contact the PREP Central Office at 210-458-2060.