Six UTSA students selected for prestigious SBSLC Advanced Leadership Institute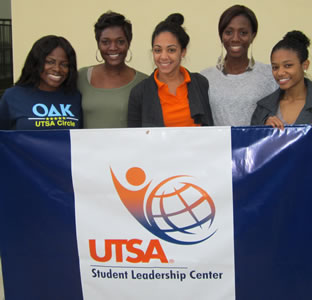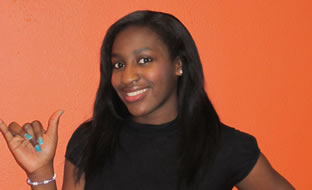 Share this Story
(Dec. 19, 2011) -- Six UTSA students who attended the 2011 Southwestern Black Student Leadership Conference (SBSLC) were selected to participate in the 2012 SBSLC Advanced Leadership Institute. The students were sponsored by the UTSA Student Leadership Center.
Now in its 24th year, the SBSLC is s a student-created, student-run leadership conference focused on developing and strengthening leaders at all levels. In 1999, the Advanced Leadership Institute (ALI) was developed to provide seasoned leaders with a more in-depth leadership experience that will prepare them to be transformational leaders on their campuses and in their communities.
For the first time, UTSA students were offered the opportunity to apply for the ALI. The six selected students submitted essays describing why they should participate in the institute. The students are Torrie Jackson, Kiara Gradney, Samantha Staton, Stephanie Agboola, Oluwaseun Adeyinka and LaKendria Ellis.
"It is an honor to have six UTSA students chosen to participate in such a selective and prestigious leadership institute," said Jana Schwartz, graduate assistant in the Student Leadership Center. "Congratulations to a very deserving group of student leaders. The Student Leadership Center could not be more proud to have you representing UTSA."
"SBSLC touches various goals in my life, and being granted the opportunity to participate will allow me to immerse myself even more into the interactive workshops and bring back ideas to my chapter and my campus as a whole," said Torrie Jackson.
"I want to enhance my leadership skills and broaden my network so that UTSA can benefit from having great leaders on its campus," said applicant Kiara Gradney.
"If given the opportunity to attend, I will fully take advantage of the learning and networking skills," said Samantha Staton. "I am excited and honored to have this conference offered to UTSA students and looking forward to building my strengths and experience."
"In being able to attend, I would take it as an honor and privilege… to apply many of the strategies and character-building skills learned last year to my life and organization," said Stephanie Agboola. "I learned so much from the conference that I counted it as nothing short of a blessing, and I know ALI will be even greater."
According to applicant Oluwaseun Adeyinka, "The wisdom I obtained from last year's conference can be further used and developed, now that I have the foundations for what is expected and required to become a strong leading force."
"I am ready to start and prepare for my future," LaKendria Ellis said. "I believe this will be a great step in helping me prepare for the world I am about to approach."