UTSA's Andrew Tsin receives presidential award for excellence in mentoring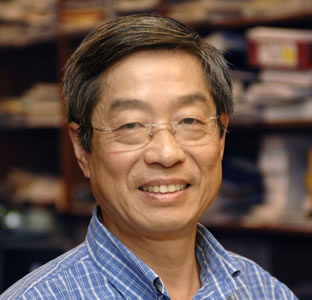 Share this Story
(Dec. 15, 2011) -- Andrew Tsin, UTSA professor of biochemistry and physiology, traveled to the White House Monday, Dec. 12 to receive a Presidential Award for Excellence in Science, Mathematics and Engineering Mentoring from President Barack Obama. Tsin was the only Texan and one of nine individuals to receive the honor this year.
Administered by the National Science Foundation and awarded by the White House, the presidential award recognizes the crucial role that mentoring plays in the academic and personal development of students studying science and engineering, particularly those who belong to groups underrepresented in these fields. By offering their expertise and encouragement, mentors help prepare the next generation of scientists and engineers while ensuring that tomorrow's innovators reflect and benefit from the diverse talent of the United States.
"Through their commitment to education and innovation, these individuals and organizations are playing a crucial role in the development of our 21st century workforce," said Obama. "Our nation owes them a debt of gratitude for helping ensure that America remains the global leader in science and engineering for years to come."
Candidates for the award are nominated by colleagues, administrators and students in their home institutions. The mentoring can involve students at any grade level from elementary through graduate school. In addition to being honored at the White House, recipients receive awards of $25,000 from the National Science Foundation to advance their mentoring efforts. The mentors and organizations represent the winners for 2010 and 2011.
Tsin's nomination for the award was submitted by George Perry, dean of the UTSA College of Sciences, and Terri Krakower, associate director of research initiatives in the UTSA Center for Research and Training in the Sciences (CRTS).
"The White House award recognizes Dr. Tsin's 30-year commitment to effective education and mentoring of underrepresented students," said Perry. "UTSA, specifically the College of Sciences, is fortunate to have his leadership."
Tsin is a nationally recognized biochemist with a 30-year record of mentoring minorities and other underrepresented groups of students. Under his leadership, more than 100 undergraduate and graduate students completed their degrees and either continued their educational journeys or took positions as scientific researchers, medical physicians or educators. Additionally, as founding director for CRTS, Tsin helped secure more than $52 million in grant funding to support research and training programs for underrepresented minorities.
"I am elated to learn of this honor for UTSA," said Tsin. "It speaks highly of the outstanding quality of our STEM education and training programs in the College of Sciences."