Celebrate Year of the Dragon: ITC's 25th annual Asian Festival, Jan. 28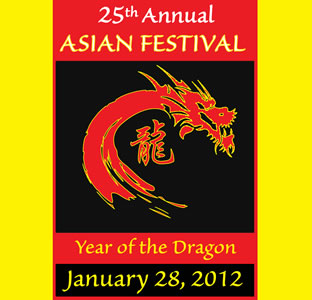 Share this Story
(Jan. 5, 2012) -- Firecrackers, cymbals, drums and Lion Dancers will herald the Chinese New Year and the 25th annual Asian Festival at the Institute of Texan Cultures, 10 a.m.-5 p.m., Saturday, Jan. 28.
The Year of the Dragon celebration will feature cultural groups representing the diverse cultures of Asia: mainland China, Korea, Japan, the Indian sub-continent and the islands of the Pacific Ocean. These groups will share their heritage through food, music, dance, cooking demonstrations, martial arts demonstrations and other crafts.
"We are honored to commemorate the 25th anniversary of the Asian Festival with all of the Asian communities that live, work and celebrate in San Antonio," said festival director Jo Ann Andera.
San Antonio's Asian communities continue to grow and evolve and the festival has become a family tradition to many. Festival founder May Lam says the festival now is attracting second-generation festival attendees and participants.
"The Asian Festival has become such a success in part due to family tradition," she said. "We've seen some of the Lion Dancers grow up and have children of their own who are now members of the Lion Dance Association. One of our friends from the Arathi School of Indian Dance came to the festival as a performer and is now the mother of a young Arathi performer."
Festival steering committee members Evelyn Crow of the Philippine community and Reneé Park of the Hawaiian community echoed Lam's comments, citing multiple generations in their own organizations. They view the festival as a means to pass their heritage and traditions to the next generation, now separated from their nations of origin.
"Because most of us are immigrants, it is very important for us to preserve our heritage, being far away from where we came," said Crow. "It is critical for our children to know their roots, where their parents and ancestors began their journey."
Festival performances include the Karilagan Philippine Dance Group, Hula Halau Ohana Elikapeka, Jones Korean Dance Company and other notable talents. The Asian Festival is an opportunity to appreciate art forms and craftworks from the continent. In addition to the many vendor offerings, guests can view beautifully crafted floral arrangements in the Japanese Ikebana tradition and delicately maintained bonsai trees.
Aside from dance and musical performances, the festival offers guests the opportunity to explore other aspects of Asian culture. San Japan hosts a series of animé showings. There are offerings of Kamishibai, a Japanese storytelling tradition with live, mural-like illustration. Children can visit the museum's "Timeless Texas Toys" exhibit for a make-and-take craft: a Japanese-style paper doll with Asian attire.
"The Asian Festival is truly a celebration for our entire community," said Andera. "We invite our community to come celebrate this 25th anniversary and this San Antonio tradition with our Asian friends and neighbors."
Advance tickets are $8 for adults (13 or older), $5 for children (6-12). Check TexanCultures.com for tickets or purchase advance tickets at the ITC museum store. Gate prices are $10 for adults and $5 for children (children five and under free). Group rates are available for groups of 20 or more, online and in advance only.
The Institute of Texan Cultures is on the UTSA HemisFair Park Campus, 801 E. César E. Chávez Blvd., a short distance from the Alamo and the River Walk. For details on becoming an Asian Festival sponsor, call 210-458-2249. For general festival inquiries, call 210-458-2300 or visit TexanCultures.com.