Quarri Technologies Executive Chairman Bill Morrow donates to UTSA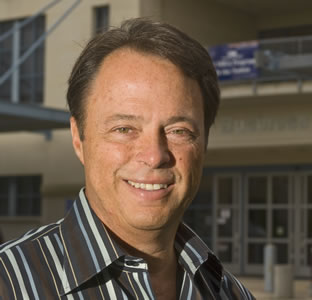 Share this Story
(Jan. 13, 2012) --Quarri Technologies, a security software company that empowers organizations to keep their sensitive data secure, announced that Executive Chairman Bill Morrow has given The University of Texas at San Antonio College of Business a gift of $10,000 cash and 100,000 shares of company stock to support cyber security research. An alumnus of the UTSA College of Business, Morrow is a strong supporter of UTSA cyber security and has a history of giving to the university, dating back to 2001.
"UTSA is extremely grateful to business leaders like Bill Morrow, who are providing the much-needed community support that UTSA needs to become a Tier One research institution," said UTSA President Ricardo Romo. "His gifts will continue to foster cyber security research."
Morrow hopes that his example will spur other UTSA alumni who are successful entrepreneurs and innovators to give back to their alma mater.
"The researchers in UTSA College of Business are some of the best in the world," said Morrow. "Their level of innovation and advancement in network security research is unmatched across the U.S. Likewise, Quarri Technologies' award-winning products give companies around the world peace of mind that today's sophisticated data attacks, whether from external or internal sources, will be stopped and sensitive data will remain secure. Quarri looks forward to the opportunity to work with UTSA in the future on next-generation IT security advancements."
Morrow has more than 25 years of business foundation and leadership experience with technology companies. He currently sits on the UTSA Development Board and has served on the UTSA College of Business Advisory Board. Morrow earned a B.B.A. in marketing from UTSA and is a 2002 UTSA Alumnus of the Year. He was the 2010 Ernst and Young Entrepreneur of the Year Award winner for Central Texas.
"As a business alumnus and longtime friend to the college, Bill Morrow understands our vision of becoming a top-tier business school and pursuing excellence in areas such as cyber security," said Lynda de la Viña, dean of the UTSA College of Business. "This gift will enable us to move forward in this critical area."
"Data protection in cyberspace is critically important in today's interconnected world," said Frederick Chang, the AT&T Distinguished Chair in Infrastructure Assurance and Security. "At UTSA, we are working hard to train the next generation of cyber security professionals and we are extremely grateful to Bill Morrow for his support of our advanced information assurance education and research programs."
------------------------------
About Quarri Technologies
Quarri Technologies Inc. is a security software company that empowers organizations to keep their sensitive data secure. The company's products defend against both external and internal attacks and prevent unauthorized use and replication of confidential data by controlling both malicious and careless end-user behavior. Quarri's products allow users to remain productive and have a seamless online experience, while also enabling organizational compliance with industry standards and government mandates. Quarri is a privately held, investor-backed corporation based in Austin, Texas, with clients throughout North America and Europe.