UTSA Libraries opens new website with features aligned with gateway site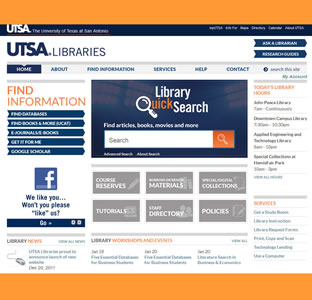 Share this Story
(Jan. 24, 2012) -- UTSA Libraries has launched a new website featuring a fresh design and login procedures that align with the university's main website.
The layout of the new home page prioritizes library services used most by students and faculty, such as a Google-like a quick-search box and an easy-to-find course reserves button. The redesign supports the UTSA Libraries vision to be a model for the 21st century academic library, providing the UTSA community with seamless access to library resources.
"The website's new design provides a better information gateway for our students and faculty," said Krisellen Maloney, UTSA dean of libraries. "As the intellectual heart of a rising premier research university, we as a library are focused on providing a virtual environment that is as intuitive and user-focused as possible."
In addition to its contemporary look, students, faculty and staff now can log in to their library accounts and access resources from off campus using their myUTSA ID (abc123) and password. This procedure coordinates with the university's standardized login, making it more convenient for users.
For more information, email Anne Peters.