Changing face of UTSA Main Campus: Roundabout to be built at north side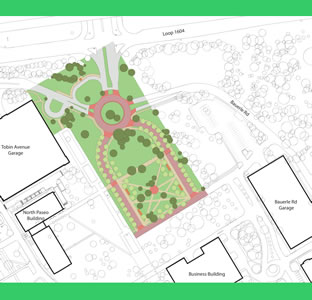 Share this Story
(Jan. 9, 2012) -- The north entrance to the UTSA Main Campus at Peace Boulevard will never be the same. No longer will the entrance be defined by an immediate traffic challenge at the corner of Peace Boulevard and Tobin Avenue, followed by a sea of surface parking.
Instead, UTSA will begin a project in March 2012 that will create a safe and easy-to-navigate traffic roundabout, convenient transportation drop-offs for VIA buses and UTSA shuttles, and an open green area that will serve as a social space for gathering and recreation. The green space, which has not yet been named, tentatively is called the "campus oval."
With the addition of the Bauerle Road Garage just north of the Main Building, this area is one of the first to reflect the long-term planned change from surface to garage parking contemplated by the UTSA Campus Master Plan adopted in 2009. When the traffic roundabout and campus oval are added, the only remaining surface parking in this area will be approximately 80 surface spaces between the Bauerle Road Garage and the Loop 1604 access road. All of what is now lot 3 (north of the Business Building) will be eliminated.
"This loss of surface parking will, of course, disrupt some established parking habits and result in a longer walk between parking and the office or classroom for those accustomed to parking in lot 3, and we regret that inconvenience," said Kerry Kennedy, UTSA vice president for business affairs.
However, there will be sufficient staff parking on the south side of campus to accommodate the elimination of this surface lot. In addition to 80 surface spaces, there will be 1,800 garage parking spaces in the area when the Bauerle Road Garage opens in August.
Construction of the new roundabout and campus oval is slated to begin in March 2012 and will include a more easily accessible visitor information booth.
>> View more on the Campus Oval Project progress, how it will affect you and where you can park.
>> Learn more about the UTSA Campus Master Plan including the campus oval.