UTSA student veteran rebuilds his life as college student after serving in Iraq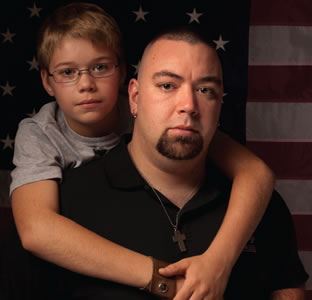 Share this Story
(Jan. 4, 2012) -- UTSA student veteran Tony Doyle has been to Baghdad and back. He's no stranger to peril, pain or loss. Doyle, then in his 20s, was serving his country in Iraq when an enemy explosive flipped the lead Humvee carrying his team.
Doyle was thrown from the vehicle and pinned beneath it, which crushed his left leg. Doctors were forced to amputate what was left of it.
But, Doyle hasn't let the loss slow him down. In fact, his ambitions have only gotten bigger. Back in the United States, he has a new aim: a history degree.
When he first began studying at UTSA, he focused on earning a bachelor's degree so he could teach high school. Now, that's not enough. "I want to go all the way up to the Ph.D. level," he said. "I want to be a college professor."
>> In Sombrilla magazine, read more about Doyle's time in the trenches and his new pursuits.
Doyle is one of many student veterans attending UTSA. Sombrilla magazine interviewed four others. Watch them tell their stories.