Dinner and smart chat: Buy 'Great Conversation!' tickets now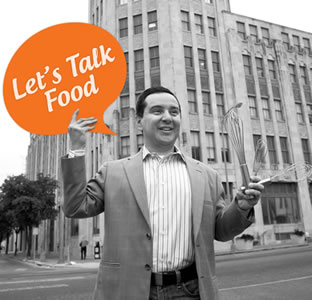 Share this Story
(Feb. 1, 2012) -- Tickets are on sale for The University of Texas at San Antonio's 12th annual "Great Conversation!," the signature fundraising event that brings together community leaders, scholars and friends of the university for engaging dinner conversation on diverse and stimulating topics.
>> Benefiting UTSA Honors College student scholarships, research stipends, and leadership and global learning opportunities, "Great Conversation!" is 6-8:30 p.m., Wednesday, Feb. 29 at the Institute of Texan Cultures, 801 E. Cesar Chavez Blvd., San Antonio, Texas, 78205-3296.
Conversation leaders will strike up engaging dinner discourse on nearly four dozen topics at this year's event. The occasion also will increase public awareness of the important cultural and intellectual role that UTSA has in San Antonio.
Tickets are $85, $65 for UTSA alumni. Table sponsorships between $1,500 and $50,000 are available by contacting Linda Lopez-George at 210-458-4488, or sponsor the attendance of a UTSA Honors College student for $50. Recent UTSA graduates (2007-2011) can purchase an individual ticket for $65.
Learn more at the Great Conversation! website or call 210-458-5162.
------------------------------
A sampling of the evening's guests and topics:
Building the Spirit of San Antonio (and a Marching Band), Ron Ellis, Director of Athletic Bands, UTSA Department of Music
The Many Meanings of Mexican Antiquity: Recent Discoveries in Mexican Archaeology, John Phillip Santos, M. Phil., Distinguished Scholar in Mestizo Cultural Studies, UTSA Honors College
The Fundamentals of Effective Lobbying, John T. Montford, J.D., President and CEO, JTM Consulting, LLC
Why Do We Need Public Schools?, Harriett Romo, Ph.D., UTSA Department of Sociology, Director, Bank of America Child and Adolescent Policy Research Institute
Making Texas Wines and Running a Winery, Cathy Bodenstedt (B.A. '11), Owner, CapRock Winery
UTSA Football: What Happens in Year Two and Beyond?, Larry Coker, UTSA Head Football Coach, Intercollegiate Athletics
Why Do We Love Restaurants (Besides Not Having to Do the Dishes)?, Ed Tijerina, Columnist, San Antonio Express-News
How to Apply Games of Chance to Life, Nelson Wolff, Bexar County Judge
How Can We Make Our Borders More Secure?, Hank Whitman, Chief, Texas Rangers
Water, Water Everywhere -- But in Texas?, Alex Briseno, Past Chairman of the Board of Trustees, San Antonio Water System
The 25th Anniversary of Martin Luther King: Why Should We Celebrate?, Richard Lewis, Ph.D., UTSA Department of Sociology