UTSA students: Apply for LeaderShape Institute, understand your life's passion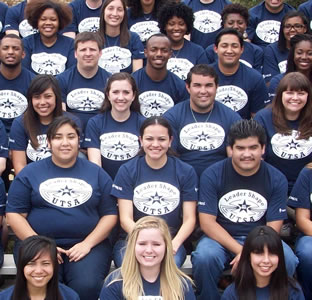 Share this Story
(Feb. 21, 2012) --Students who want to discover and focus on their passion in life and who want to make a difference in the community will want to apply to participate in the LeaderShape Institute. It's not just another retreat or conference -- it's a six-day experience for students no longer satisfied accepting the world as they know it. Through the students desire and passion, the goal is to eliminate the "to-do" list, and create a "to-be" list.
>> The UTSA Student Leadership Center will select approximately 60 students to participate in the May 20-25 institute. The application deadline is March 29. To apply, visit the LeaderShape website. The center covers all costs for students selected to attend including transportation, lodging, meals and registration.
For the retreat, participants will take a chartered bus to the John Newcombe Tennis Ranch in nearby New Braunfels, Texas, where they will focus on leadership and personal development. At the institute, students work through challenges in Family Clusters and together as one community. Guiding, supporting and challenging the Family Clusters are the Cluster Facilitators. Each facilitator also applied and was selected by last year's LeaderShape graduates to participate in this year's institute. Cluster facilitators are UTSA faculty, staff and advisers.
At LeaderShape, students discover what is most important to them and how they can make a difference in the community, whether that is UTSA, San Antonio, Texas or the world. All participating students need is something they care about and the willingness to be guided to narrow their focus while creating an action plan. All that is asked is a commitment to actively participate and contribute to not only their success, but also the success of the other participants.
For more information, contact the UTSA Student Leadership Center at 210-458-7967, University Center Suite 1.002 on the Main Campus or visit the UTSA Student Leadership Center website, where you can like us on Facebook.
------------------------------
Comments from some of last year's LeaderShape graduates:
"My experience at LeaderShape was eye-opening and very emotional. The bonds and relationships I've formed as a result of LeaderShape are lifelong and will never be forgotten. I'm grateful for the opportunity to experience and plan on sharing what I've learned from LeaderShape at UTSA and throughout the S.A. community." -- Trishauna Hopkins
"LeaderShape was an incredibly eye-opening experience. I have never been a part of a conference that was so mentally, emotionally, physically and psychologically challenging in terms of achieving my goals. It meant a great deal to be able to be exposed to a realization that, 'Hey, I can change the world.' All I need to do is plan it step by step." -- Bernadette Butra
"During LeaderShape, I enjoyed learning about all of the students and staff life stories. There was also amazing encouragement given to us to bring back to UTSA and beyond. We all learned about the importance of communication and teamwork to a community like UTSA and San Antonio." -- Hassan Barzani