UTSA Roadrunner of the Month is psychology major Torrie Jackson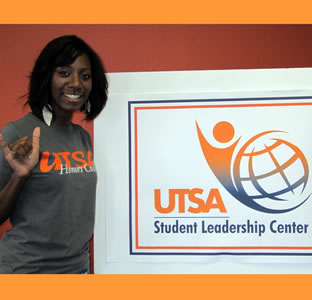 Share this Story
(Feb. 9, 2012) -- The UTSA Student Leadership Center announces Torrie Jackson as Roadrunner of the Month for December 2011/January 2012. Pesha Mabrie, complex coordinator of UTSA Housing and Residence Life, nominated Jackson.
Jackson is from Houston, where she graduated from Cypress Falls High School. She is a junior studying psychology. After receiving her B.A. she plans to enter graduate school and work toward a Ph. D. in clinical psychology. Jackson would like to open a private practice focusing on disaster survivors and mental health. She also hopes to start a nonprofit agency centered on educating youths pursuing their education and becoming more involved with their communities.
Jackson is a resident assistant at the Chaparral Village campus residence facility and has been an excellent example of leadership at UTSA, according to Mabrie. During resident assistant training last fall, she stepped up as mentor to many of the rookie resident assistants. She took time out of her schedule to make sure everyone knew the proper operating procedures for the front desk and on-call processes.
"Torrie shows her leadership by her actions, and she has gained the respect from her residents and colleagues," said Mabrie. "Torrie is very passionate about everything that she is involved in. She makes a point to get to know her residents on a deeper level than many of her colleagues and hosts programs focused on their interests."
"Being a good leader is not an everyday characteristic that is found in just any individual but it is a characteristic that every individual can work towards," said Jackson. "Thus, leadership to me is the essence of life. It is the key component that is needed to succeed. I strive to be a better leader each day so that one day someone can be influenced by my leadership to change the world and make difference."
The Roadrunner of the Month award is sponsored by the Student Leadership Center to recognize outstanding UTSA student leadership contributions. Nominees must meet these criteria:
Full-time UTSA undergraduate or graduate student
Minimum cumulative grade point average of 2.5 when nominated
Must have demonstrated excellence in leadership above and beyond typical expectations
Nominations should be for actions that positively impact the UTSA community
>> Submit nominations at the UTSA Student Leadership Center website.