UTSA tularemia researchers granted U.S. patent for work on bacterium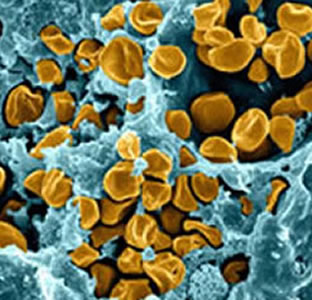 Share this Story
(Feb. 9, 2012) -- A group of researchers in the UTSA South Texas Center for Emerging Infectious Diseases (STCEID) was granted a United States patent from the U.S. Patent and Trademark Office for its work on Francisella tularensis (F. tularensis), the bacterium that causes the human disease tularemia (or rabbit fever). While natural cases of tularemia are relatively rare, F. tularensis can be fatal when acquired through the lungs, and thus this organism is considered a potential biothreat agent.
UTSA researchers James Chambers, professor of biochemistry; Jieh-Juen Yu, research assistant professor; Neal Guentzel, professor of microbiology; Bernard Arulanandam, Jane and Roland Blumberg Professor in Biology and associate dean of research for scientific innovation; and Karl Klose, professor of microbiology and STCEID director; have studied F. tularensis for years. The team led by Arulanandam and Chambers found that Francisella degrades alkaline phosphatase (AP) during infection, and the distinctive degradation can be used as a diagnostic tool to reveal the presence of the bacteria.
"The South Texas Center for Emerging Infectious Diseases is focused on developing new diagnostics, therapeutics and vaccines to reduce the impact of infectious organisms on the human population," said Klose. "Tularemia is a difficult disease to diagnose, due to its infrequent appearance in the clinical setting, yet rapid diagnosis may be critical for effective intervention during a bioterrorist event. This patent may lead to better diagnostics and possibly even novel therapeutics for tularemia."
In 2010, STCEID researchers also were awarded a patent for developing a tularemia vaccine composed of a live crippled Francisella bacterium unable to cause disease but able to induce protection against infection.
The STCEID focuses on research in molecular microbiology, immunology, medical mycology, virology, microbial genomics, vaccine development and biodefense, and studies the organisms that cause Valley Fever, Lyme disease, anthrax, cholera and other infectious diseases. The center also provides hands-on training to high school, undergraduate and graduate students who intend to pursue careers in science and technology.
Working with the Department of Biology in the UTSA College of Sciences, center faculty have established an undergraduate academic track in microbiology, a master's program in biology and biotechnology, and a Ph.D. program in cell and molecular biology. In 2011, the STCEID established a Center of Excellence in Infection Genomics with funding from the Department of Defense.
"The push to commercialize UTSA intellectual property for the benefit of the general public is one of the things that will help UTSA become a Tier One research institution," said Arulanandam. "Those discoveries lead to commercial licenses, income that will give our researchers and others across the university the opportunity to work on human health challenges facing today's society."