UTSA Center for Policy Studies sponsors '7 in Seven' spring break service projects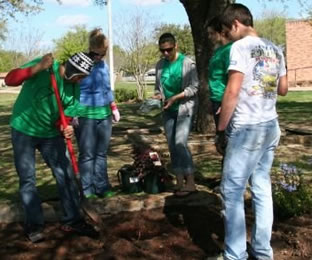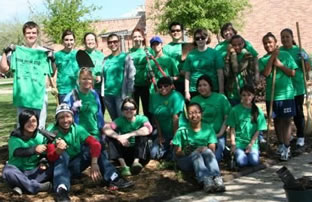 Share this Story
(March 13, 2012) -- The UTSA Center for Policy Studies will sponsor "7 in Seven," a weeklong spring break project, March 12-17, during which students in the UTSA Nonprofit Leadership Alliance (NLA) will turn their passion into action by volunteering.
During the third annual event, NLA students will work with community members to complete seven service projects with seven area nonprofit organizations. Last year students, supporters and alumni logged more than 400 service hours on projects.
Among other projects, the volunteers will work with the Southwest Voter Registration Education Project to help provide voter registration information and register residents to vote.
Working with the House of Teens and Students United for the Dream Act, the students will assist with painting a mural at the House of Neighborly Service to cover up graffiti, while adding art to the landscape. Additionally, students will assist with San Antonio Pets Alive to conduct a dog adoption and pet wash fundraising event.
For more information, call 210-458-2086.
------------------------------
"7 in Seven" project schedule
March 12, 9 a.m.-noon -- SAY Si ABC Outreach Program: Assisting with youth art workshops
March 12, 1-4 p.m. -- San Antonio Food Bank: Helping prepare meals to be distributed to Kid's Café sites.
March 13, noon-5 p.m. -- Southwest Voter Registration Education Project and mural painting to cover graffiti at the House of Neighborly Service on San Antonio's West Side
March 14, 9 a.m.-4 p.m. -- Dress for Success: Assist organization by doing inventory of clothing donations
March 15, 10 a.m.-2 p.m. – San Antonio Pets Alive: Assist with dog adoption and pet wash fundraising event at Lucy's Doggy Day Care
March 16, 9 a.m.-noon – Daily Bread Ministries: Assemble packages of nonperishable food for Kids Against Hunger program
March 17, 7 a.m.-3 p.m. – The ARC of San Antonio: Help paint portable buildings for the organization to help expansion efforts