Construction science professor Yilmaz Hatipkarasulu named outstanding educator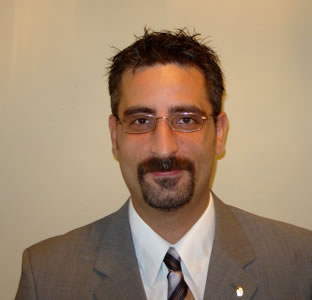 Share this Story
(March 15, 2012) -- Yilmaz Hatipkarasulu, UTSA assistant professor and coordinator of the UTSA Construction Science and Management (CSM) program, recently was named the 2012 Outstanding Educator by the Associated General Contractors of America (AGC) Education and Research Foundation. The award is one of the most prestigious national awards in the construction discipline.
Hatipkarasulu will receive the award at the AGC 93rd annual convention in Hawaii. As part of the award, two UTSA CSM students will receive $2,500 scholarships.
In the award letter, Hatipkarasulu was praised for his work as an educator, student mentor and colleague in the construction industry, setting him apart as an outstanding leader and role model for future industry leaders. The award acknowledges his work to develop the UTSA Construction Science Management program and his outstanding accomplishment in establishing a scholarship program for construction students.
"Dr. Hatipkarasulu has exhibited a high level of dedication to his students, the CSM program and to the education of future leaders in the construction industry," said John D. Murphy Jr., dean of the UTSA College of Architecture. "His ability to handle the administrative requirements of being the program coordinator while continuing to be available and present for his students has set him apart from others who were considered for the award."
Established in 2008, the CSM program offers a four-year Bachelor of Science in Construction Science and Management degree. With more than 200 undergraduate students and six faculty members, the CSM program is one of the fastest growing construction programs in the nation.
"Dr. Hatipkarasulu's commitment to excellence in both curriculum and instruction has led to exponential growth in this program, while other universities are struggling with enrollment," said Maryanne Guido, CEO of Guido Brothers Construction Co., president of the San Antonio Chapter of AGC and founding member of the UTSA Construction Industry Advisory Council. "His positive attitude, tireless efforts and infectious enthusiasm have propelled the UTSA program to unprecedented levels in a very short time."
Hatipkarasulu joined the UTSA faculty in 2009 as the first construction science and management faculty member. He holds a B.S. degree in civil engineering from Cukurova University, Turkey, and M.S. and Ph.D. degrees in civil engineering from Louisiana State University, Baton Rouge.
"It is a great honor to be recognized as an educator," said Hatipkarasulu. "It is also a humbling experience that encourages you to do better every time you enter the classroom."
Founded in 1918, AGC is a full-service national trade association with a nationwide network of chapters representing more than 30,000 firms including 7,500 of America's leading general contractors, nearly 12,500 specialty contractors and more than 13,000 service providers and suppliers. The AGC Foundation was established in 1968 by AGC members with the primary purpose of supporting construction education through scholarships, recognizing outstanding educators, sponsoring an annual student essay competition and providing a wide array of industry-related educational programs.
Since 1985, the AGC Education and Research Foundation annually has recognized an educator who makes a significant mark in the field of construction education. The Outstanding Educator award is based on a nominee's academic contribution as well as his or her work with students outside the classroom and involvement with colleagues in the industry. The San Antonio chapter of AGC was founded in 1923 and serves more than 425 member firms in 19 counties throughout South Texas. AGC San Antonio is a founding member of the UTSA Construction Industry Advisory Council.