UTSA International Trade Center reports great results in 2011 annual report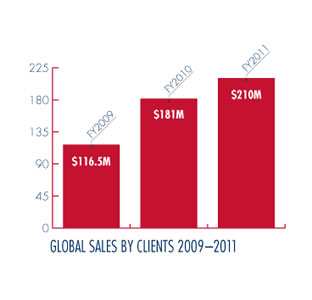 Share this Story
(March 29, 2012) --Clients at the International Trade Center in the UTSA Institute for Economic Development reported 2011 global sales of $210 million and 1,424 jobs created or retained in South Texas as a result of assistance received from the International Trade Center. This and other results are published in the 2011 Annual Report.
"We are delighted with the results produced by our center during 2011," said Cliff Paredes, director of the UTSA International Trade Center. "We have improved in every area of our operations, and we are pleased with the sales reported by our clients, and jobs created and retained, as well as the number of clients we helped last year. We are positioned to keep growing our team and continue assisting more companies in South Texas with their international business efforts."
Other important areas reported in the 2011 annual report include the role of the International Trade Center in the National Export Initiative, the training series offered throughout the year, the assistance to foreign companies that want to invest in Texas, the expansion of SBDCGlobal.com and its leading role in assisting the development of the small business development center (SBDC) model throughout Latin America.
The UTSA International Trade Center is the largest and most successful trade assistance organization in Texas. It helps companies become globally competitive through technical trade consulting, customized market research and innovative training programs. The center is a specialty program of the South-West Texas Border SBDC Network.
Learn more at the International Trade Center website or follow the center on Twitter @TexasTrade. To obtain a copy of the printed annual report, email Alberto Rodriguez-Baez.