April 2 deadline for students to apply to UTSA Summer Law School Preparation Academy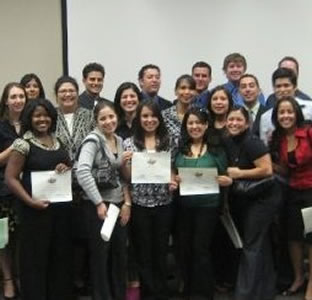 Share this Story
(March 30, 2012) -- The UTSA Institute for Law and Public Affairs is accepting applications for the Summer Law School Preparation Academy (SLSPA). SLSPA students have been admitted to more than 150 schools across the nation including Harvard, Columbia, U.C. Berkeley, Cornell, Duke, UT Austin and others, including all law schools in Texas. The deadline to apply is Monday, April 2.
>> Download the SLSPA application at the UTSA Institute for Law and Public Affairs website.
The purpose of the nationally recognized academy is to increase the number of students admitted to and excelling in law school. The program offers a variety of rigorous undergraduate courses to prepare students for law school and the LSAT.
Students can earn 12 credit hours through the summer program in either one or two summers. In partnership with the University of Texas at Austin School of Law, award-winning UTSA faculty members have designed courses to hone students' analytical, critical-reading and writing skills. The institute confers the UTSA Certificate in Legal Reasoning on students who complete 12 credit hours of designated coursework. Students can apply during their sophomore, junior or senior year. Enrollment is by admission following application review.
Submit an application, letter of recommendation and personal statement by e-mail at ilpa@utsa.edu, by fax at 210-458-2993 or deliver them to the offices designated on the application form at either the UTSA Downtown Campus or UTSA Main Campus.
For more information, contact Ana Alvarez, program coordinator of the Institute for Law and Public Affairs, at 210-458-2990.