Main Campus road closure: Peace Roundabout, Campus Oval construction begins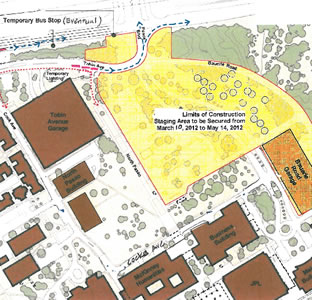 Share this Story
(March 7, 2012) -- At the UTSA Main Campus, Peace Boulevard from Loop 1604 to the Main Building and the Peace parking lot (also known as lot 3) both will close March 10 for construction of the Peace Roundabout and Campus Oval. Construction fences will go up March 10 surrounding the construction project.
The project will include these major changes:
With Peace Boulevard closing, there will no longer be access to the Main Building from Loop 1604. But, the circle drive in front of the Main Building and book drop off at the Business Building will continue to be accessible from the south via Bauerle Road.
Entry to the campus on the north side will be from Brenan Avenue and Barshop Boulevard. The Tobin Avenue Garage will remain open for permit holders and visitor parking.
After March 10, the VIA bus stop will be relocated from lot 3 to the Loop 1604 access road and an accessible route provided to the core of campus.
Changes to the UTSA shuttle routes will be provided at shuttle stops and on the buses.
"We want to get the word out to everyone about these important changes on the Main Campus," said Kerry Kennedy, UTSA vice president for business affairs. "When this project is complete, there will be improved traffic and pedestrian safety, convenient bus service locations, and a new social and recreational gathering space. We thank the UTSA community and visitors for your patience during the construction."
For more information, contact Facilities Work Management at 210-458-4262.