UTSA Institute for Economic Development helps launch small business model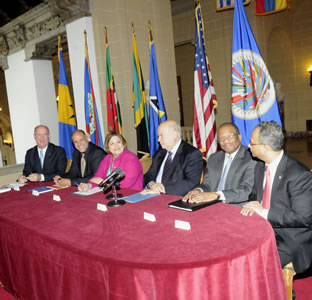 Share this Story
(March 2, 2012) -- On Feb. 24, Robert McKinley, UTSA associate vice president for economic development, helped launch in Washington, D.C., a new international small business development center initiative. The Caribbean Small Business Development Center (SBDC) project is modeled on similar SBDC programs in the United States.
The initiative partners the Organization of the American States, the U.S. Department of State Mission to the OAS and the Caribbean Export Development Agency with the UTSA Small Business Development Center programs.
At the ceremony, Ambassador Carmen Lomellin, U.S. permanent representative to the regional body, announced a U.S. grant of $960,000 to fund the launch. The project will create a network of sustainable and successful small business assistance networks in Saint Lucia, Dominica, Belize, Jamaica and Barbados.
The newly created network of Caribbean small business development centers will be linked with similar existing programs throughout the United States, Mexico, Colombia and Central America to share best practices and promote cooperation and support productivity and sustainable economic growth.
Under the leadership of McKinley, UTSA has demonstrated deep commitment to and successful in expending the proven SBDC model throughout Latin America. Beginning with Mexico in the 1990s, UTSA helped launch 104 SBDC programs in Mexico, 10 in El Salvador, two in Colombia, and is in the process of standing up SBDC model programs in the Dominican Republic, Honduras, Costa Rica and Panama.
UTSA's SBDC programs are part of an 1,100-member network, the Association for Small Business Development Centers, in the United States and its territories. The SBDC programs headquartered at UTSA served more than 29,000 entrepreneurs in 2011, helping to create or retain more than 7,000 jobs.
In remarks at the ceremony, McKinley noted that the SBDC program "has been successful in the United States for the past 35 years" as a partnership between the government, the universities and the private sector that work on business development to provide services in business training, counseling, technology assistance and research.
According to McKinley, the long-term goal is to form an inter-American network of small business development programs with two strategic purposes: development and trade with especial emphasis in women entrepreneurs. "The Caribbean must not be left out, as the region can benefit greatly from this initiative," he said.
José Miguel Insulza, OAS secretary general, said Caribbean and Latin American countries "have long recognized the importance of micro-, small- and medium-sized enterprises (MSMEs) as major contributors to employment and growth within their communities, nations and the region as a whole" and "despite the important challenges the sector faces, it accounts for 70 percent of the jobs and more than 50 percent of GDP in the region."