Celebrate UTSA Earth Week, April 16-22: 20 things you need to know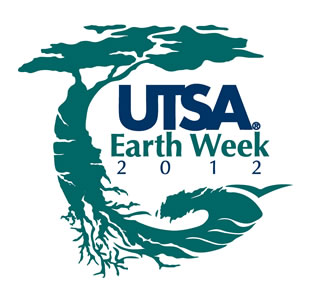 Share this Story
(April 19, 2012) -- Each year on April 22, the world celebrates Earth Day to raise awareness of the world's precious resources and how we use them.
UTSA has expanded the earth-friendly organization with Earth Week, a weeklong series of events to raise awareness of how individuals treat the environment.
Haven't made it any of UTSA Earth Week events yet? Take a look at these 22 EcoFacts to show a little love to Mother Earth.
------------------------------
EcoFacts
EcoFact 1: Tissue and toilet paper use is tearing up virgin forests in North America, as Americans use 50 pounds per person of these items annually.
EcoFact 2: On average, food travels 2,000 miles from its point of origin to its point of consumption.
EcoFact 3: A leaky faucet wastes about 2,700 gallons a year at a drip per second. A
leaky toilet can waste more than 100 gallons per day.
EcoFact 4: Heating water accounts for 15-25 percent of the total energy used in a single-family home.
EcoFact 5: Brazil has more cars that burn ethanol than burn gasoline. Ethanol's carbon dioxide emissions are canceled out by growing the plants used to produce it.
EcoFact 6: Dirty oil from one oil change could pollute one million gallons of water -- a year's supply for at least 50 people.
EcoFact 7: If the nearly 50 billion cans trashed in 2005 had been recycled, we could have saved enough energy to power 1.3 million American homes.
EcoFact 8: 40-50 percent of all food ready for harvest never gets eaten in the United States.
EcoFact 9: The average American adult receives nearly 41 pounds of junk mail each year, about 17 pounds of which ends up in landfills.
EcoFact 10: Americans recycle less than a third of our garbage, which is taking up valuable space in landfills, polluting groundwater and releasing toxic fumes.
EcoFact 11: At the American rate of consumption, we would need more than five Earths to sustain the population.
EcoFact 12: America's per capita carbon emissions are more than four times the global average.
EcoFact 13: Drive 444 miles in an electric-gasoline hybrid car and you would produce as much CO2 as a 100-mile drive in a conventional SUV (166 pounds, if you were wondering).
EcoFact 14: The species at the top of the ocean food chain -- large, predatory fish -- have declined 90 percent in the last 50 years.
EcoFact 15: Transportation is typically the biggest environmental impact of an American wedding.
EcoFact 16: The average office worker uses 10,000 sheets of copy paper annually. Switching to recycled paper is the first step.
EcoFact 17: For every $11 spent on groceries, $1 goes toward packaging. Up to 40 percent of the nation's trash is discarded packaging material.
EcoFact 18: Vampire power is energy expended by home electronics when not in use, and costs the United States up to $3.5 billion annually.
EcoFact 19: Textbooks account for about one fifth of the American book-publishing market, consuming 200,000 tons of paper annually (or about 4 million trees).
EcoFact 20: The world consumes more than one million plastic bags per minute.
EcoFact 21: Using a microwave for small- to medium-sized portions can cut in half the energy you use to prepare food.
EcoFact 22: American businesses, individuals and institutions produce approximately 4.5 pounds of trash per day per person, which is at least double what western Europeans produce.
Source: The EcoQuiz Desk Knowledge Cards