Scholar Erich D. Jarvis speaks on neurobiology of human language April 24 at UTSA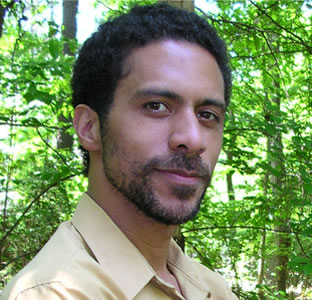 Share this Story
(April 16, 2012) -- The UTSA Neurosciences Institute and UTSA Specialized Neuroscience Research program will present neuroscientist Erich D. Jarvis speaking on "Learned Birdsong and the Neurobiology of Human Language: at 5:30 p.m., Tuesday, April 24 in University Center Ballroom (1.106) on the UTSA Main Campus. A reception will precede the lecture at 5 p.m. The Distinguished Public Lecture is free and open to the public.
Jarvis, a scholar at Howard Hughes Medical Institute and Duke University Medical Center, studies songbird learning as a model for how the brain generates, perceives and learns behavior.
The scientific community has consistently believed that human language is a unique skill most closely characterized by the learning of songbirds. Jarvis' research on how birds learn to sing has been significant in helping scientists further understand how the human brain controls vocal learning and spoken language.
Generally, vocal learners such as songbirds, parrots, hummingbirds and humans have a unique forebrain system that controls learned vocalizations, whereas species that produce unlearned (innate) vocalizations only have a vocal system in their brainstems.
Through a unique method, Jarvis has mapped the brain pathways of parrots, hummingbirds and songbirds as well as their gene activity during vocal learning. Doing so has revealed that the brains of the three birds are surprisingly similar. Since the birds are extremely different from one another, he suggests that their vocal brain pathways must have been guided by evolution.
Additionally, since birds and humans have strong similarities in the front parts of their brains and brainstems -- the parts of the brain that control the motor movements needed for song and speech production, Jarvis believes that the capacity for human language is the result of a similar evolutionary journey.
A Harlem native, Jarvis rose above difficult personal challenges to become a successful neuroscientist. He is a graduate of Rockefeller University, where he earned his doctorate degree and continued to complete post-doctoral work. While at Rockefeller, Jarvis worked under the tutelage of Fernando Nottebohm, who pioneered research on song-learning in birds.
Each year, the UTSA Distinguished Public Lecture series brings an internationally recognized neuroscientist to UTSA to engage and educate a wide and varied audience from across the San Antonio region to discuss current research findings on neuroscience topics that offer a fundamental understanding of the human experience. Prior lecturers in the series have featured Caltech consciousness researcher Christof Koch; Columbia neuroscientist, Huntington's disease pioneer and advocate Nancy Wexler; and Harvard neurologist Anne Young.
The UTSA Neurosciences Institute is a multidisciplinary research organization for integrated brain studies, drawing primarily on the faculty expertise of the UTSA College of Sciences Department of Biology. The institute's mission is to foster a collaborative community of scientists committed to studying the biological basis of human experience and behavior, and the origin and treatment of nervous system diseases.
Its areas of focus include nervous system development; neuronal and network computation; sensory, motor and cognitive function; learning and memory, and the disease processes that impact them; implementing mathematical and computational tools in experimental neurobiology; and mathematical theory of neurons and nervous systems.