UTSA green groups host 'Green Tie Affair' April 19 to highlight student work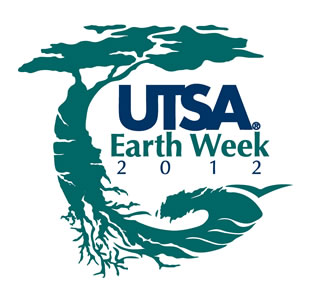 Share this Story
(April 16, 2012) -- As part of Earth Week, April 16-22, the UTSA student organization The Movement will host "The Green Tie Affair," a formal dinner with presentations that will spotlight the work of four green student organizations. The event is 7 p.m., Thursday, April 19 in the University Center Ballroom (1.104) on the Main Campus.
The organizations being recognized are USGBC Students, Roadrunners for Renewable Resources, The Green Society and The Movement. Proceeds from the dinner will benefit the four organizations. Representatives from each group will give presentations summarizing their environmental projects.
>> Tickets are $10 (students), $20 (faculty-staff), $25 (non-UTSA) and $175 for tables. To buy tickets or to donate, visit the UTSA Earth Week website.
"This event will be a great opportunity for UTSA students, along with departments and administrators to recognize the extra-curricular student initiatives that are in place at UTSA," said Travis Jourdan, event organizer, Student Government Association senator and member of The Movement. "These organizations have not only created awareness of sustainability but have helped make serious capital improvements and policy changes that should be recognized."
"Supporting this event not only shows your commitment to sustainability and Tier One goals at UTSA, but also demonstrates support for the students who are constructing tangible change during their free time," Jourdan said.
For more information about tables or to be a sponsor, contact Travis Jourdan at 281-330-9672.