University of Washington is national champ of Collegiate Cyber Defense Competition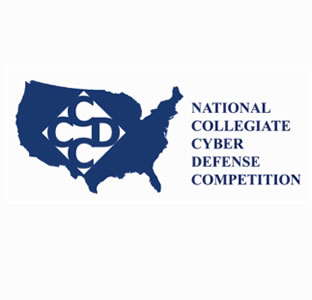 Share this Story
(April 25, 2012) -- Defending champion University of Washington took home the Alamo Cup at the seventh annual National Collegiate Cyber Defense Competition (NCCDC) April 20-22 in San Antonio at the St. Anthony Hotel.
Presented by Deloitte, one of the largest professional services organizations in the United States, and organized by the UTSA Center for Infrastructure Assurance and Security (CIAS), the NCCDC pitted teams of full-time college students from across the country against each other in an environment where cyber-security skills are pushed to the limit.
The U.S. Air Force Academy and Texas A&M University also made strong showings at the competition, placing second and third, respectively.
"We developed the National Collegiate Cyber Defense Competition to raise awareness among college students of the need for more cyber security professionals and to get them to starting thinking of cyber security as a possible career path," said Dwayne Williams, NCCDC director. "But, in just seven years, the competition has become a recruiting ground for companies who want to hire the best talent colleges have to offer. Past competitors have collectively received hundreds of job offers. We even had an instance where an entire team was hired by a competition sponsor."
Modeled from real-world scenarios and obstacles, the CCDC is the first cyber security competition designed to test how well students operate and manage a network infrastructure similar to the networks in the commercial sector. At the start of the competition on Friday, each eight-person (except for University of Alaska, Fairbanks, who lost their eighth member just before the competition) team inherited an "operational" network for a fictional business called "Go-Mommy," an Internet Web service hosting company and its subsidiary retail operations that included email, websites, data files and users.
Competitors were given minimal information about the network, its security levels and its software. A few minutes later, a live Red Team started to actively scan and probe the companies. For the first time this year, an Orange Team, composed of fictional users, clients and customers contributed new stress to the teams as they struggled to maintain services.
Over the three-day competition, the teams were required to keep up with the operational needs of their businesses and their user demands, while maintaining service level agreements for all of their critical Internet services. When they completed business tasks and maintained services, they earned points.
When they violated service-level agreements or recovery-and-restoration usage services, or when the Red Team penetrated their network, they lost points. At the end of the competition, the University of Washington had earned the highest score and the right to take home the coveted Alamo Cup.
In all, 10 teams won their state or regional competitions to earn a spot in this year's national championship. In addition to the first-, second- and third-place winners, competitors included:
At-Large Regional CCDC Winner: University of Alaska, Fairbanks
Mid-Atlantic Regional CCDC Winner: Towson University
Midwest Regional CCDC Winner: St. Cloud State University
Northeast Regional CCDC Winner: Rochester Institute of Technology
North Central Regional CCDC Winner University of Wyoming
Southeast Regional CCDC Winner: University of North Carolina at Charlotte
Western Regional CCDC Winner: California State Polytechnic University, Pomona
The threat of cyber attacks targeting the United States is a serious issue at the highest levels of government. President Obama recently noted that "cyber threat is one of the most serious economic and national security challenges we face as a nation." Moreover, Secretary of Homeland Security Janet Napolitano recently announced that the Department of Homeland Security faces a barrage -- thousands of cyber-attacks every 45 minutes.
In line with the United States commitment to cyber defense, Secretary of Department of Defense Leon Panetta announced in his 10-year budget forecast that cyber security is one of a few select areas that will receive additional investment and resources, even as the Department of Defense readies to scale back $487 billion in spending in other areas.
"Our nation is under constant attack from various cyber criminals, from individuals stealing personal financial information to sophisticated terrorist networks seeking to hack into our electrical grid and be a detriment to our way of life," said Gen. Harry Raduege of Deloitte Services LP and chairman of Deloitte's Center for Cyber Innovation.
"Our nation continues to seek out and employ the best and brightest to combat cyber crimes," said Raduege. "Competitions such as the NCCDC help refine the skills necessary to man our new front lines."
NCCDC provides higher education institutions with information assurance and computer security programs in a competitive environment.
"San Antonio boasts one of our nation's largest military contingents," said Gregory White, director of the UTSA CIAS. "Students who participate in these kinds of competitions are at the forefront of the war on terror. Cyber terrorism is very real. Each day, our federal government and commercial sectors are at risk. Our competition provides the necessary foundation for students to implement what they've learned to serve a higher calling as key defenders against cyber terrorism and maintain the security of our networks."
For more information, visit the National Collegiate Cyber Defense Competition website or contact CIAS at 210-458-2119.