Team develops prostate cancer diagnosis, wins UTSA entrepreneurship competition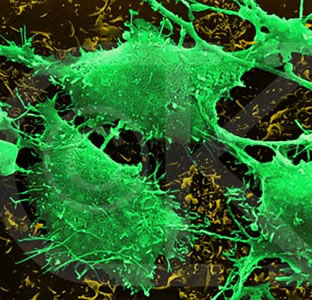 Share this Story
(May 14, 2012) -- Automatic Classification and Predication of Prostate Cancer (ACPPC) -- a team of three business students and one engineering student that developed a process to predict, diagnosis and classify prostate cancer and wrote a business plan to market the technology -- triumphed at the $100,000 Student Technology Venture Competition.
The April 28 event at the UTSA Main Campus was presented by the UTSA Center for Innovation and Technology Entrepreneurship (CITE). UTSA teams PCMR Medical and Enhanced CPM Technologies respectively placed second and third in the business planning competition.
ACPPC developed software to diagnose and grade the severity of prostate cancer. The software runs an algorithm on a tissue slide to determine the Gleason score, a 1-5 score given to prostate cancer based upon its microscopic appearance. The software has a 97.4 percent accuracy rate.
PCMR Medical presented a low-cost, easy-to-use blood coagulation monitor with a unique target-market focus. The monitor was developed to measure how fast blood clots and is directed at expectant mothers in sub-Saharan Africa.
Enhanced CPM Technologies presented a medical device called a continuous passive monitor, which is used after knee-replacement surgery to move the knee through its full range of motion during rehabilitation. Their product is lightweight, portable and less costly than other devices on the market.
Nine student teams competed at the competition. The other competitors presented these technologies:
B&E Industries offered versatility by combining skid loaders, excavators and their attachments.
Charge Disk developed new technology to create and store magnetic energy to allow users a mobile charging station.
Leak Seek Compressed Air Solutions designed a device that measures system performance and translate drops in system pressure to a dollar amount.
Life Management Systems Inc. presented a standardized and affordable home automation system for builders.
Renewable Revolution presented a device that converts the mechanical energy from passing vehicles into usable electricity to help lower energy costs.
Revamped Tech offered software that enhances the Amber Alert to more efficiently aid in the recovery of abducted victims.
UTSA established the tech competition in 2007, when it was observed that its engineering students were developing new technologies and business students were writing business plans, but neither group of students continued their efforts beyond turning in projects for a grade. With the competition in place, UTSA students now are developing marketable technologies and forming viable new companies based on those technologies. Teams in the competition are judged by local academic, business and entrepreneurial experts on their technology, business plans and presentations.
"The competition is an ideal forum for our next generation of UTSA entrepreneurs to showcase their ideas," said Cory Hallam, CITE director. "The winning teams now have the opportunity to take their inventions to the next level by either selling it or bringing it to market."
Winners received $100,000 in services and prizes including consulting, marketing and legal services, office space and other benefits.
The founding sponsor of the competition is the Texas Research Technology Foundation. New and continuing sponsors included Cox Smith Attorneys, Harvard Business School Club of San Antonio, San Antonio Technology Center, UTSA College of Business, UTSA College of Engineering and UTSA Office of the Vice President for Research.
CITE is an interdisciplinary center in the UTSA College of Business and College of Engineering. The center fosters the growth of entrepreneurs and new technology-based ventures through education, experiences, resources and support.