UTSA Business Scholars Program provides services to first-gen college students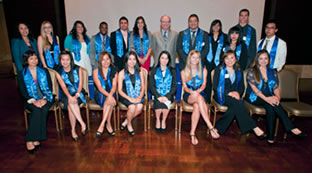 Share this Story
(May 22, 2012) --- Established in 2002 as a program to help first-generation college students make a smooth transition from high school to college and on to graduation, the Business Scholars Program (BSP) in the UTSA College of Business celebrated its biggest accomplishment yet -- the graduation of 22 students from the program in one semester.
BSP provides academic, leadership and professional development services for first-generation college students through mentorship and community service activities. The program enrolls 150 undergraduates each year and boasts an 84 percent retention rate for participants.
"The Business Scholars Program serves as a community of support for academic achievement, friendship and professional development," said Rosa Garza-Girdy, director of undergraduate studies and the Business Scholars Program. "Participating in a community of like-minded students who face the same challenges enriches the college experience and makes students more likely to realize their goals."
BSP graduate Jamaal Hollingsworth is an example among many who have benefitted from the program. Raised by a single mother, Hollingsworth is a graduate of Sam Houston High School. As a member of the BSP, he was able to adopt a more professional mindset that prepared him for the post-college experience. Hollingsworth received a B.B.A. in management at UTSA's May 12 commencement.
"BSP has helped me to develop into the person I am today," said Hollingsworth. " I have been encouraged to attend conferences, obtain multiple internships and even land my first professional job."
Hollingsworth has served for the last three years as an ambassador for the City of San Antonio and completed internships with the Hispanic Chamber of Commerce, Urban Housing and Development, the PM Group Advertising Agency and with his current employer, State Farm.
Academic adviser Cynthia Brown handles advising for the BSP members and notes the measures she takes to assist students like Jamaal.
"We offer personalized academic advising and mentoring throughout their college experience and make attaining a college diploma the top priority," said Brown. "Whether it be via email, phone, Skype or in-person, students know that I am available to help them through their journey at UTSA."

Other spring semester Business Scholars Program graduates were Crystal Aldrighette, accounting; Juan Cabrera, accounting; Esther Cole, human resources; Laura Cox, actuarial science; Jessica Figueroa, international business; Laura Galvan, management; Daysi Garcia, accounting; Angelica Garcia, accounting; Carmen Lafuente, international business; Patricia Lara, finance; Rochelle Mata, accounting; Rose Ornelas, marketing; Oanh Pham, accounting; Luis Reyes, marketing; Jo Rios, accounting; Courtney Skelly, management; Ryan Smith, real estate finance and development; Nadine Suh, international business; Christian Tijerina, accounting; Cynthia Urrea, human resources; and Joseph Valencia, actuarial science.