UTSA Opens Faculty Instructional Technology Lab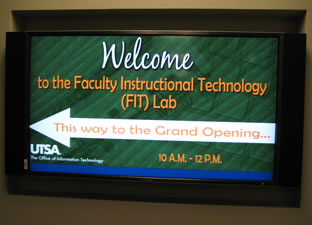 Share this Story
(May 15, 2012) --- The University of Texas at San Antonio (UTSA) has opened its Faculty Instructional Technology (FIT) Lab, a resource center to assist faculty with the use of new technologies in instruction. One hundred faculty members are already making use of the FIT Lab to teach more effectively.
Located in the Multidisciplinary Studies Building at the UTSA Main Campus, the lab is conveniently located next door to the Online Learning Team, which is available to assist lab users with any questions.
The FIT lab supports UTSA faculty with instructional technology and features a classroom podium setup and projector for faculty to practice live lectures. Additionally, the lab has a quiet room for individuals to record lectures using a sound booth with high-end hardware, audio and video editing software. Multimedia experts, instructional designers and developers are available to provide consulting services to faculty members looking to redesign their courses.
The Online Learning Team is also available to answer questions about Blackboard. UTSA instructors use Blackboard for online course learning, email, assignments, process management and course improvement.
Department of Communication Associate Professor Christopher Hajek has taken advantage of the lab for specific help in loading exams to Blackboard.
"The huge screen in the lab has been so helpful, as it has allowed me to sit comfortably with an instructional development specialist as she explains some of Blackboard's more advanced features," said Hajek. "We're not huddled together in front of a small screen -- it's great."
Vice Provost for Information Technology and Chief Information Officer Ken Pierce was instrumental in setting up the UTSA FIT lab. He noted the importance of having a centralized place for faculty members to receive assistance in online learning design.
"As a part of UTSA's Graduation Rate Improvement Plan, we are tasked with implementing more online content," said Pierce. "The timing of the opening of the FIT Lab could not be better as it will help attain this goal."