UTSA ranked among national leaders in degrees awarded to Hispanics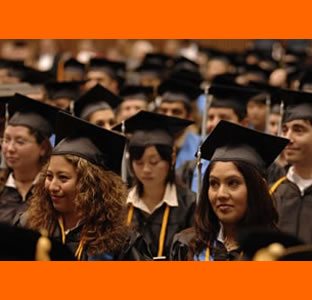 Share this Story
(May 16, 2012) -- The University of Texas at San Antonio is No. 5 in the nation in the number of undergraduate degrees awarded to Hispanic students, according to the May 2012 edition of The Hispanic Outlook in Higher Education. Additionally, UTSA was ranked No. 12 nationally in the number of master's degrees awarded to Hispanics.
The magazine surveyed the 2011 academic year of the Top 100 predominantly Hispanic-serving colleges and universities in the United States and Puerto Rico.
UTSA earned its No. 5 ranking for awarding undergraduate degrees to 1,883 Hispanic students of 4,138, representing 46 percent of the graduating class. UTSA earned a No. 12 ranking for master's degrees, awarding master's to 350 Hispanic students of 1,017, representing 34 percent of the class.
Each year, the magazine also includes Hispanic student participation across all major fields of study.
"We are proud to see 10 UTSA academic programs listed among the top in the country for graduating Hispanic students," said UTSA Provost and Vice President of Academic Affairs John Frederick. "Providing access to excellent educational opportunities while celebrating our rich heritage is the fiber of who we are at UTSA, and it will continue to be so as we move toward our goal of becoming a tier-one institution."
For the fourth consecutive year, the UTSA School of Architecture ranked first with 79 undergraduate degrees awarded to Hispanics. UTSA also received a top ranking in the recreation, leisure and fitness studies category, awarding 120 undergraduate degrees to Hispanics.
The UTSA undergraduate degree rankings include:
No. 1 -- Architecture: 79 (48 male and 31 female)
No. 1 -- Parks, recreation, leisure and fitness studies: 120 (59 male and 61 female)
No. 2 -- Business and marketing: 435 (251 male and 184 female)
No. 3 -- Multi/interdisciplinary studies: 207 (22 male and 185 female)
No. 3 -- Mathematics: 31 (19 male and 12 female)
No. 4 -- Biological sciences: 125 (49 male and 76 female)
No. 4 -- English literature: 83 (24 male and 59 female)
No. 4 -- Homeland security: 136 (65 male and 71 female)
No. 5 -- Psychology: 162 (46 male and 116 female)
No. 10 -- Hispanic Studies: 11 (4 male and 7 female)
Overall, the University of Texas System dominated the first tier of the Top 100 institutions with UTSA, UT El Paso, UT Pan American and UT Austin placing among the Top 10.