Staff members present official t-shirt for display at Chris Madrid's restaurant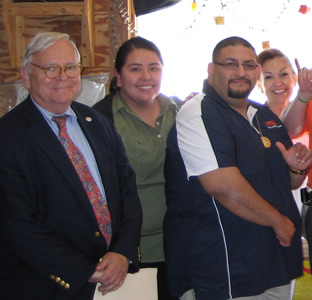 Share this Story
(May 22, 2012) -- What do UTSA and the Chris Madrid's restaurant have in common? They both value personal attention, a quality product and a genuine concern for customer satisfaction.
When Mari Mandujano, assistant director of admissions at the UTSA Downtown Campus, realized that of all the t-shirts displayed on the walls of Chris Madrid's, not one was from UTSA, she made it her mission to correct that.
So, on Wednesday, May 16, 10 staff members from the UTSA Downtown Campus presented Diana Madrid, the sister of the restaurant's namesake, an official UTSA t-shirt to be displayed proudly in the restaurant.
Known for his famous hamburgers, the late Chris Madrid opened the restaurant in 1977 and was a University of Texas at Austin marketing major.