Interactive kiosks improve way finding at University Center on UTSA Main Campus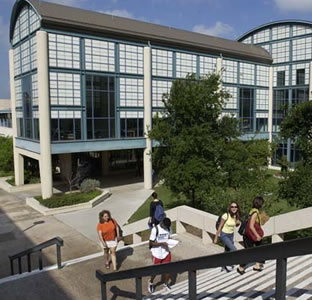 Share this Story
(May 31, 2012) -- Three interactive directory kiosks have been installed at the UTSA University Center (UC) on the Main Campus to assist guests in finding meeting rooms, offices and events.
"After we conducted several surveys, we found that guests had a hard time finding offices within the University Center," said Lowa Mwilambwe, University Center director. "The new interactive directory will greatly simplify moving throughout the University Center."
The touch-screen kiosks at the ballroom galleria, food court and the entrance near the Fiesta Dancers statue will help UC visitors find the right room by selecting on the screen an event, service or office name. Then, a path to the particular room is shown. The system also displays ADA-accessible (Americans with Disabilities Act) routes within the UC.
Along with the new kiosks, the UT System Board of Regents approved name changes for the three buildings that comprise the University Center to help facilitate navigation. The two older sections of the facility (UC I and UC II) now are known as UC North and the newer section (UC III) is UC South.
The University Center is the focal point for programs, meetings, dining and relaxation for UTSA students, faculty, staff and guests. Students from across the university converge at this part of the Main Campus to engage in unique social, recreational, cultural and educational activities. As the campus community gathering place, the UC is an inviting and inclusive environment where ideas are exchanged, relationships are built and memories are made.
For more information, visit the University Center website.