UTSA United to Serve student volunteers help with service projects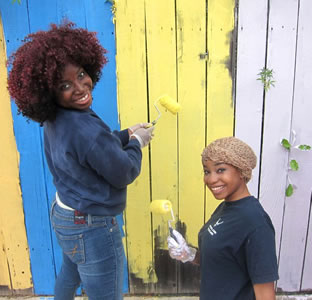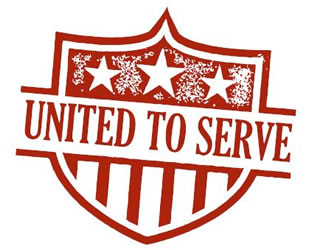 Share this Story
(May 11, 2012) -- UTSA's eighth annual United to Serve event involved work at 17 volunteer service projects on April 14. With six of the projects organized by student organizations, more than 400 student volunteers from 25 student groups worked on projects across the San Antonio community including staffing for Any Baby Can at the eighth annual Walk for Autism, landscaping for Boysville Inc., improving Head Start Centers, painting at Catholic Charities, supporting For the Kids and volunteering at the Food Bank, Girl Scouts of SW Texas and Habitat for Humanity.
United to Serve is a UTSA tradition and system-wide volunteer initiative involving UT System students and student organizations in an effort to engage and mobilize volunteers in their communities.
Rene Amaya from Catholic Charities appreciated the work done by UTSA's VOICES (Volunteer Organization Involving Community Education and Service) and Sigma Lambda Beta volunteers, who helped paint the Immigration Services Building. "We had a great experience with the volunteers, and they made our building look beautiful," he said.
"Without our volunteers, it would be nearly impossible to make the Walk for Autism such a great success," said Stephanie Jerger of Any Baby Can. "We had a great turnout this year, and we couldn't have asked for a better group of volunteers fr groups such as VOICES and Zeta Tau Alpha."
Daniel McTyre, VOICES leader for the San Antonio Food Bank project, said he enjoyed the opportunity to not only pack food for those in need, but also the chance to network with Alpha Tau Omega volunteers.
Yvonne Pena, UTSA assistant dean of students; Jennifer Rames, UTSA associate director of service learning; and Cristina Dominguez, UTSA graduate assistant for volunteer services, spent the day visiting the volunteers at their sites and making sure projects were going as planned. They observed great things at all the sites and hope the event will continue to grow each year with participation from more student organizations and more groups creating their own service projects.
"The volunteers at Boysville were really dedicated to improving and beautifying the grounds," said Dominguez. "The work was labor intensive, but I never heard them complain once, and it was clear they were having fun."
For more information about Volunteer Service and VOICES, visit the UTSA Inclusion and Community Engagement Center website.