UTSA places ninth among 23 competitors in S.A. Sports Corporate Cup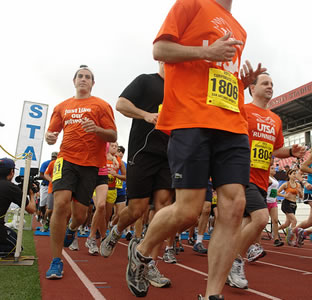 Share this Story
(June 21, 2012) -- The University of Texas at San Antonio placed ninth overall among 23 large employer teams in the San Antonio Sports Corporate Cup on June 2. Seventy UTSA employees assembled at the University of the Incarnate Word to compete with other San Antonio companies and institutions in hopes of winning the Corporate Cup. UTSA placed first in the golf-chipping event and second place in the Frisbee toss.
The daylong event encourages wellness, camaraderie, athletic skill, charitable giving and volunteerism. Each category earned companies points toward winning the Corporate Cup. The 13 wellness and athletic events consisted of three running events, two basketball events, a wellness walk, Frisbee toss, golf chipping, corn toss, tug of war, football throw, soccer kicks and dodge ball.
Fifty San Antonio corporate teams participated. Companies were divided into four divisions determined by their size. UTSA's competitors included H-E-B, YMCA, USAA, AT&T Mobility, Rackspace, NuStar Energy and University of the Incarnate Word.
The event provided UTSA a chance to show its commitment to improving the overall health and wellness of employees. UTSA employees showed that fitness can be fun and enjoyable. San Antonio Sports has scheduled the 2013 Corporate Cup for June 1, and UTSA employees will participate again.
The Rowdy New U wellness program is open to UTSA employees at no cost. For more information, email wellness@utsa.edu.