UTSA kicks off science, technology and engineering summer camps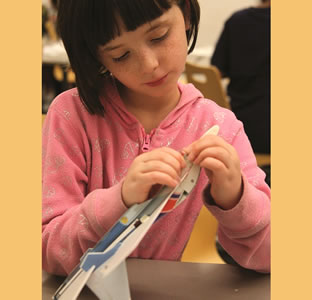 Share this Story
(June 6, 2012) -- Calling all future engineers! The UTSA Interactive Technology Experience Center (iTEC) kicks off its summer camps this week, and there are a few openings in the camps for students in grades 3-5.
Sessions still available include:
iTEC Mad Lab -- Explore basics of chemistry with hands-on chemistry experiments for your chemist.
iTEC Rocks -- Campers will grow crystals, dig for bones and construct their own cave systems.
Lost in Space -- This hands-on program sends children on an intergalactic quest to explore the cosmos.
Building the You of Tomorrow -- Campers discover what they're made of and how their bodies work using advanced biotechnology.
Gas Who! Alt Energy-- Your little engineer will spend hours learning about different forms of clean energy.
A GEARing Challenge -- The weeklong class will GEAR children up with the rules of GEAR robotics competitions and the use of practical attachments. Tackle the challenges of previous competitions with iTEC.
Students attending iTEC summer camps should bring a sack lunch each day that does not require refrigeration. Early drop-off (7:15 a.m.) and after-camp care (5:30 p.m.) will be available for children of all ages for an additional $20 per week.
Housed in the UTSA College of Engineering, iTEC mission inspires youths by creating an environment where they can understand how engineering, science and technology shape lives and the future of our world. The camps are 8 a.m.-4 p.m. sessions at the Applied Engineering and Technology Building on the UTSA Main Campus.
Costs vary by camp; visit the iTEC Summer Camp website or email Roberta Bauer for details including camp schedules.