Two UTSA spring graduates receive laptops honoring academic achievement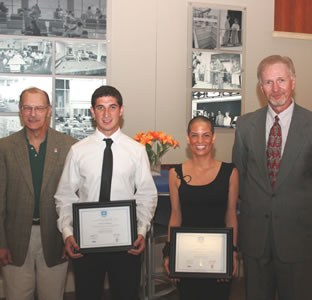 Share this Story
(June 12, 2012) -- UTSA spring graduates Matthew Hinojosa and Nazdira Litvinov are the winners of the UTSA Office of Information Technology Laptop Awards for the 2011-2012 academic year. Winners were selected from graduates of the Academic Development Program (ADP) in the UTSA Tomas Rivera Center for Student Success and also are UTSA spring graduation candidates. Both students received a Dell laptop computer and an award certificate.
This year, the laptop award ceremony was combined with an event acknowledging first-year provisional students' completion of ADP requirements. Certificates went to students admitted on a provisional basis who had completed at least 18 credit hours at UTSA with a 2.00 G.P.A. or higher. ADP students are aided in adjusting to college life while improving their academic skills. The program includes participation in a Learning Community, individualized academic advising, and academic support and guidance.
Matthew Hinojosa is the first laptop award recipient to earn an electrical engineering degree with an outstanding 3.57 G.P.A. At UTSA, he participated in Eta Kappa Nu, the electrical and computer engineering honor society, and was a member of the National Society of Collegiate Scholars. He served in an internship with Futurex-Electrical and Systems Engineering. After completing the internship, he will be employed by Software Communication and Navigation Systems Lab.
The second laptop recipient, Nazdira Litvinov, earned a B.A. degree in psychology in May. She worked closely with UTSA psychology professor Ephrem Fernandez in an independent study on the study of emotion, specifically anger, and assisted him in many aspects of a course he taught last spring. From 2006 to 2009, she earned several awards through the Ramar Music Institute for outstanding musical achievement in piano and was acknowledged by the National Guild of Piano Teachers. A member of the National Fraternity of Student Musicians, she plans to combine her love of yoga with the discipline of psychology. Another of her personal triumphs was completion of the 60-day Bikram Challenge, an intense physical and mental yoga practiced in a 105-degree room.
A committee of ADP advisers selects the laptop award recipients. A search of spring 2012 graduation candidates who were admitted to UTSA on a provisional basis established a pool of potential awardees; the committee narrowed the pool with a G.P.A. cutoff of 3.00 and above. Qualifying students were asked to submit an application detailing their academic and work experience, and showcasing their UTSA involvement. Each candidate submitted an essay describing what it means to him or her to graduate from UTSA.
Although G.P.A. is a factor in selecting the award recipients, it is not the sole factor. The committee looks at overall accomplishments and the time it took to complete the degree, as well as the student's desire for success.
"We are extremely proud of our freshman students that have cleared that first hurdle on their way to graduation," said Cynthia Rodriguez, UTSA director of ADP. "The laptop awards acknowledge the completion of another milestone by our students -- graduation -- but also encourage incoming students by showing what is possible in just a few short years."
The laptop awards were presented by Lee Gildon, chief operations officer of the UTSA Office of Information Technology, and John Moder, vice president and COO of the Hispanic Association of Colleges and Universities (HACU). The laptop program was co-founded by UTSA and HACU, but now is sponsored by the UTSA Office of Information Technology and the UTSA Tomas Rivera Center for Student Success.