La Prensa Foundation is newest member of UTSA Lone Star Society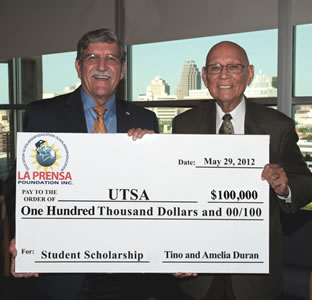 Share this Story
(June 5, 2012) -- UTSA President Ricardo Romo and La Prensa Foundation's Tino Duran recently celebrated the foundation's induction into the UTSA Lone Star Society, the university's new premier cumulative giving society. With its most recent gift, La Prensa Foundation total giving to UTSA scholarship funds reached the $100,000 mark.
The Lone Star Society recognizes donors at three giving plateaus, beginning with the Silver Level from $100,000 to $499,999; the Gold Level from $500,000 to $999,999; and the Platinum Level, which recognizes cumulative giving at $1 million and above.
For more information about the Lone Star Society, contact CeCe Frost Griffin in the UTSA Office of Development at 210-458-5135.