UTSA names Samuel Gonzales interim vice president for student affairs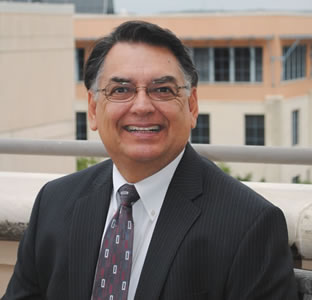 Share this Story
(June 14, 2012) -- UTSA President Ricardo Romo announces the appointment of Samuel Gonzales as interim vice president for student affairs. Gonzales will begin his duties Aug. 1, when Gage E. Paine, current UTSA vice president for student affairs, begins a new position at the University of Texas at Austin.
UTSA administrators will establish a committee over the summer to conduct a search for a permanent vice president for student affairs.
As interim vice president for student affairs, Gonzales will oversee 18 departments including Admissions, Financial Aid and Enrollment Services, Registrar, Student Life, Student Services and Intercollegiate Athletics.
Over his 36-year career at UTSA, Gonzales has held numerous leadership positions including associate vice president for student affairs administration and student services, interim assistant vice president for student life and director of career services.
Gonzales has served nationally as president of the Cooperative Education and Internship Association, locally as president of the San Antonio College and University Placement Association and regionally as treasurer of the Southwest Association of Colleges and Employers.
Through his career, his teams have been honored with the Alcohol EDU national award for Excellence in Prevention Programming in 2007, the UTSA Richard S. Howe Excellence in Service to Undergraduate Students Award and the UTSA Team Spirit Award.
Gonzales earned a Master of Education Degree in Psychology and a bachelor's degree in mathematics from Our Lady of the Lake University. Additionally, he was a Kellogg Fellow in Education Policy with the Institute of Educational Leadership at the University of Texas at Austin.
"Sam Gonzales has served at UTSA for nearly 36 years and is very knowledgeable about the Division of Student Affairs." said UTSA President Ricardo Romo. "He understands our vision of providing students with an excellent learning environment designed to help them succeed. I am grateful that he has agreed to serve as interim vice president during this transition as we continue with our focus of becoming a Tier One university."