In memoriam: UTSA's inaugural police chief dies at age 81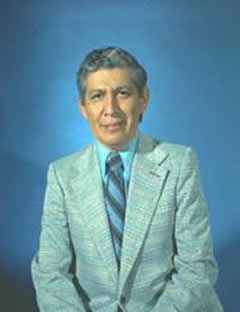 Share this Story
(July 13, 2012) -- Former UTSA Police Chief Manuel Chavez died Wednesday, July 11 at age 81.
On April 20, 1973, Chavez was appointed by then UTSA President Peter T. Flawn as UTSA's first chief of police. When appointed, the UTSA Police Department consisted of one chief, one sergeant, three patrolmen and 10 uniformed guards. They provided security to the UTSA campus, the Lutcher Center in Terrell Hills and the Institute of Texan Cultures. At the time, there was no on-campus housing or a Downtown Campus. When Chavez retired in 1994, after serving for 21 years, there were nearly 30 police officers employed by the department and the student population had more than tripled.
Chavez also served for 17 years in the 1950s and 1960s as a patrolman and lieutenant of detectives at the Harlingen Police Department, then as chief of police at the Pharr Police Department. A graduate of the FBI National Academy, he was a member of the Texas Police Chiefs Association and served as president of the Harlingen Jaycees and Boys Club of Harlingen.
One of the few remaining UTSA Police Department employees who worked with Chavez is Captain Douglas Sonego, who said, "Virtually everyone at UTSA who knew and worked with Chief Chavez liked and respected him as a person and for his fairness and common-sense approach. Chief Chavez gave me my start in law enforcement and allowed me to learn as an officer and as a detective through hard knocks, which helped me to grow as an officer and as a person. I was very fortunate that he was my first chief."
A funeral service will be at 10 a.m., Saturday, July 14 at the Rudy Garza Funeral Home, 1702 E. Harrison St. in Harlingen. There will be a graveside service in San Antonio at 10 a.m., Monday, July 16 at Holy Cross Cemetery, 17501 Nacogdoches Road.