COPP, National Forum for Black Public Administrators Establish Professional Development Institute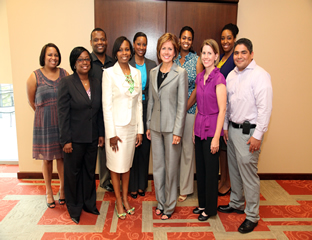 Share this Story
(July 6, 2012) -- The UTSA College of Public Policy (COPP) and the San Antonio Chapter of the National Forum for Black Public Administrators (NFBPA) have partnered to create the inaugural Professional Development Institute (PDI). The purpose of the Institute is to equip San Antonio's emerging leaders with the skills required to effectively meet the demands of executive positions in the public sector.
The partnership is instrumental in enhancing and strengthening community engagement and civic participation, an integral part of the mission of the College of Public Policy.
"The collaboration with NFBPA supports one of our College's major goals related to diversity and fostering civic engagement among African Americans and Latinos," said Rogelio Saenz, dean of COPP.
A commencement ceremony for the students enrolled in the inaugural session was held in June, with San Antonio City Manager Sheryl Sculley as the keynote speaker. UTSA students Layla McKinnon and Saressa Thorson were among the institute's first graduates. Several others were UTSA alumni. The remaining participants included employees of the City of San Antonio, San Antonio Water System and CPS Energy.
The inaugural Institute was taught by District Two Councilwoman Ivy Taylor, who also serves as a non-tenure track full-time faculty member in the Department of Public Administration. Participants were instructed in topics such as community leadership, 21st century trends, ethics, transparency, and accountability for public administrators. Guest speakers included State Representative Ruth Jones McClendon and SA2020 CEO Darryl Byrd.
NFBPA San Antonio Chapter President David McCary said, "We are excited. This is a defining moment for the San Antonio Chapter, and we look forward to developing future leaders through our Professional Development Institute. NFBPA San Antonio is dedicated to ensuring all PDI graduates master their craft in public service."