Early voting for joint primary run-off election runs through July 27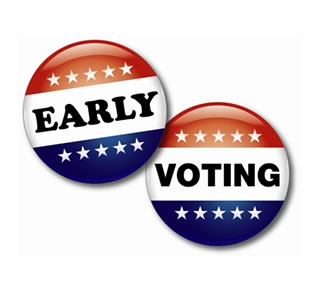 Share this Story
(July 24, 2012) -- Election day for the joint primary run-off election is Tuesday, July 31. For the convenience of voters, early voting runs through Friday, July 27. Citizens can vote early at various poll locations from 8 a.m. to 8 p.m.
>> Download the voting calendar and poll locations.
Voters must bring to the voting site a voter registration certificate or other form of identification. According to the Texas Secretary of State website, acceptable forms of identification include:
Driver's license or personal identification card issued by the Texas Department of Public Safety (or similar document issued by an agency of another state, even if the license or card has expired);
Form of identification that contains photograph and establishes voter's identity;
Birth certificate or other document confirming birth that is admissible in a court of law and establishes the person's identity;
U.S. citizenship papers;
U.S. passport;
Official mail addressed to voter by governmental entity; or
Copy of a current utility bill, bank statement, government check, paycheck or other government document that shows voter's name and address.
Download sample ballots for the joint primary run-off election:
San Antonio citizens were at the polls May 12 to vote on quality-of-life improvements. Voters in the election passed the $596 million bond program for infrastructure improvements. Voters will come back to the polls for the Nov. 6 election. UTSA has been designated an early-voting site for the Nov. 6 general election.

For more information about voting, visit the Texas Secretary of State website.