UTSA's Bob McKinley honored by San Antonio Hispanic Chamber of Commerce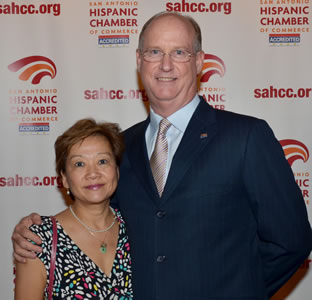 Share this Story
(July 30, 2012) -- Bob McKinley, UTSA associate vice president for economic development, was honored recently with the Economic Empowerment Award by the San Antonio Hispanic Chamber of Commerce (SAHCC) at their 2012 Business Awards dinner.
For more than two decades, McKinley has guided the steady growth of the UTSA Institute for Economic Development, demonstrating commitment to service in the San Antonio and international communities.
"Like UTSA, the institute's goal is one of access and excellence," said McKinley. "I feel very privileged and honored to be recognized for this work by the SAHCC, and I'm proud to be a representative of UTSA and the Institute for Economic Development.
His accomplishments include building and managing a 94,000-square-foot business incubator facility for Control Data Corp. in a redevelopment area of San Antonio. The project achieved 97 percent occupancy to house more than 60 small businesses with 550 employees and was profitable as a private-sector economic development venture.
From 1980 to 1985, McKinley was executive director of the Fort Worth Mexican-American Chamber of Commerce. Minority business programs of the chamber tripled productivity to assist clients in marketing their goods and services to governmental procurement agencies, resulting in sales of $65 million per year.
From 1977 to 1979, McKinley was a community organizer for La Misión de Amistad, Município de Tizimín, Yucatán, Mexico. A church-sponsored mission, it coordinated rural development activities including economic development, health, agricultural, literacy and educational projects, while affording McKinley the opportunity to learn Spanish and Mayan language and culture.
The UTSA Institute for Economic Development is dedicated to creating jobs, growing businesses and fostering economic development. Its 11 centers and programs provide professional business advising, technical training, research and strategic planning for entrepreneurs, business owners and community leaders. Programs serve San Antonio and the Texas-Mexico border area as well as regional, national and international stakeholders. Together with federal, state and local governments, and private businesses, the institute fosters economic and community development in support of UTSA's community engagement mission.
UTSA provides access to higher education for many first-generation college students, and is one of the largest Hispanic-serving institutions in the nation. Access to higher education gives students the opportunity to achieve excellence. The IED provides small businesses access to professional training, advising and research. By supplying the appropriate tools to be successful, the IED enables businesses to excel and become leaders in their industries.
-------------------------------
San Antonio Hispanic Chamber of Commerce Awards
Rising Star of the Year Award: Lourdes Castro Ramirez
Community Service Award: Ernest Bromley
Business Owner of the Year Award: Veronica Ann Edwards
Corporate Executive of the Year Award: Doyle Beneby
Economic Empowerment Award: Bob McKinley
Family Excellence Award: Frank, Jorge and Javier Herrera
Lifetime Achievement Award: Lionel and Kathy Sosa