UTSA establishes HUB mentor protege team as bridge between contractors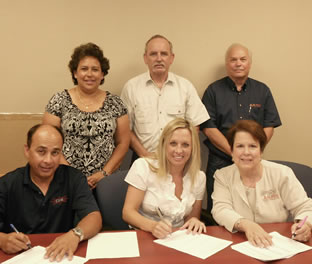 Share this Story
(July 24, 2012) -- The UTSA HUB (historically underutilized business) program announces a new mentor protégé team between Alpha Building Corp. and two HUB protégés, H.J. Otis and Cosmo Electric. The HUB program will host and facilitate the relationship.
HUB vendors are minority- and women-owned businesses certified by the state.
Alpha Building Corp. is a woman-owned HUB business that will serve as a mentor to the HUB protégés. Alpha has served as a job order contractor at UTSA for more than nine years.
"We understand the importance of mentoring smaller firms in this industry," said Kathy Acock, president of Alpha Building Corp. "We are also aware of the need to work with quality specialty trade subcontractors. We're happy to work with H.J. Otis and Cosmo Electric to help them achieve their potential."
The State of Texas Mentor Protégé program is fosters long-term relationships between prime contractors and HUBs. The objective of the Mentor Protégé program is to provide professional guidance and support to the protégé (HUB) in order to facilitate their growth and development and increase HUB contracts with the State of Texas. Participation in the program is voluntary.

In fiscal year 2011, UTSA ranked 20th among all state agencies in the percentage of eligible expenditures made through HUB vendors. UTSA spent 25.58 percent (more than $8 million) of UTSA's eligible purchases with HUB vendors. In the UT System, only UT El Paso had a higher percentage of purchases (31.54%), but spent less with HUB vendors ($6.4 million).