UTSA Assistant Professor Heather Shipley honored by engineering peers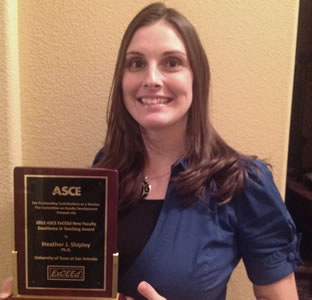 Share this Story
(July 2, 2012) -- Heather Shipley, UTSA assistant professor of civil and environmental engineering, has been awarded the American Society of Civil Engineers (ASCE) New Faculty in Teaching Award. The award was established by the ASCE Excellence in Civil Engineering Education (ExCEEd) project and the ASCE Committee on Faculty Development to recognize and reward outstanding new faculty with five years or less of teaching experience. UTSA civil engineering student Jessica George nominated Shipley for the award.
"It is truly an honor to be recognized for this award," said Shipley. "Having an opportunity to have an impact on my students is what it is all about for me. I am committed to creating a learning environment that is both rigorous and engaging and empowers students to learn and apply it to their community."
Shipley is a graduate of Rice University where she earned her M.S. and Ph.D. degrees in civil and environmental engineering and was a recent nominee for the University of Texas Regents' Outstanding Teaching Award. She joined the UTSA faculty in 2007. Three years later, she was named an American Society of Civil Engineering ExCEEd Fellow and received the North American SETAC Travel Endowment Award. She currently is a reviewer for journals such as Environmental Science and Technology, Environmental Toxicology and Chemistry and Chemosphere and served as the faculty adviser for the UTSA chapter of Engineers without Borders.
The ASCE was founded in 1852 and represents more than 140,000 members of the civil engineering profession worldwide. It is America's oldest national engineering society. The organization's mission is to provide essential value to its members and partners, advance civil engineering and serve the public good.
As the fasting growing engineering college in Texas, the UTSA College of Engineering provides world-class engineering education and research opportunities to the region's diverse community, the nation and beyond. Students are prepared for lifelong learning and careers in the engineering profession and research leading to innovative technologies.