Institute of Texan Cultures: 'Timeless Texas Toys' exhibit extended to end of 2012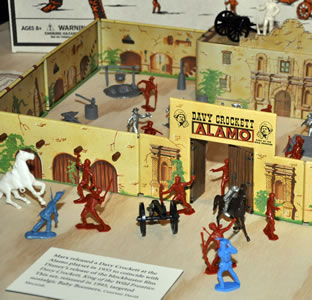 Share this Story
(July 30, 2012) -- The Institute of Texan Cultures will extend the run of the "Timeless Texas Toys" exhibit through the end of the calendar year.
The popular exhibit explores the cultural values, ingenuity, art, and design expressed in handmade folk toys. It features stations where children can get hands-on with folk toys such as climbing bears and wooden tops, or make their own folk toy, such as paper dolls, spool cars and clothespin dolls.
Designed to resemble a toymaker's workshop, the exhibit gallery includes workbenches, shelves and tables strewn with antique toys. Guests might find a child's size, turn-of-the-century baseball bat, conjuring memories of days with friends at the park. The china doll on another shelf may remind a grandmother of a special time in her life. For others, Davy Crockett's coon-skin cap might recall adventures on the Wild Frontier.
As adults have tools to do their jobs, a child's job is to learn -- and toys are their tools. Play is how children begin to understand the world around them. The exhibit may spark nostalgia in older museum guests, giving them an opportunity to bond with children and grandchildren over shared experiences of play.
When "Timeless Texas Toys" opened in 2011, the ITC partnered with the San Antonio Fire Department for its annual holiday toy drive. The museum and fire department will renew that partnership for the 2012 holiday season, and a 2012 Toy Day event will be announced.
The toys exhibit opened Nov. 19, 2011, and was scheduled to end in August 2012; the new closing date is Dec. 31, 2012.
The Institute of Texan Cultures is on the UTSA HemisFair Park Campus, 801 E. César E. Chávez Blvd., a short distance from the Alamo and the River Walk. Hours are 9 a.m.-5 p.m., Monday-Saturday; noon-5 p.m., Sunday. Admission is $8 for adults (ages 12-64); $7 for seniors (ages 65+); $6 for children (ages 3-11); free with membership, UTSA or Alamo Colleges identification. For more information, call 210-458-2300 or visit TexanCultures.com.