Three UTSA offices move to suites in new Bauerle Road Garage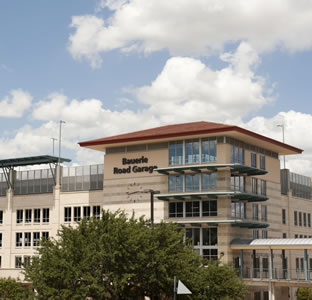 Share this Story
(Aug. 20, 2012) -- The week of Aug. 20, three UTSA offices will relocate to new facilities in the Bauerle Road Garage on the Main Campus. The moves involve the Welcome Center (formerly Visitor Center), Office of Alumni Programs and Office of University Communications.
The new suites are on the garage ground floor facing the Business Building. The Welcome Center will be at the north end with Alumni Programs next, then University Communications.
Phone numbers will remain the same for each office, but may be inoperative briefly during the moves.

The moving days are:
On Tuesday, Aug. 21, the Welcome Center (formerly Visitor Center) in the Multidisciplinary Studies Building on the Main Campus will move to Bauerle Road Garage Suite 0.316. For more information, call 210-458-5145.
On Wednesday, Aug. 22, the Office of University Communications will move from the John Peace Library to Bauerle Road Garage Suite 0.302. This suite will be shared with the University Publications and University Photography staff members. Contact University Communications at 210-458-4550, University Publications at 210-458-6155 and University Photography at 210-458-7461.
On Friday, Aug. 24, the Office of Alumni Programs will relocate from the University Center to Bauerle Road Garage Suite 0.304. Contact Alumni Programs at 210-458-4133.